How to Save Money at Kohl's
This underwritten post may include affiliate links.
There are a few stores that I frequent, and Kohl's is at the top of my list. I love searching their in-store and online sales, and I have completely decorated my home with some of Kohl's discounted decor. To help you get more bang for your buck at this store, here are a few tips to help you save money!

1. Use Groupon Coupons. I always browse Groupon for local attractions and services, but did you know that there are also coupons there too? It's a simple way to save money before you shop! Look up Kohl's on Groupon Coupons to see how you can stack your savings. Right now there are over 100+ promotions and sales including coupon codes and other savings. I make sure to stop by this site before I do any shopping just to make sure that I am getting the BEST deal that I can possibly get.
2. Install the Kohl's app. Use the Kohl's app to earn points while you shop, shop, and store your Kohl's cash!
3. Make Sure You're a Rewards Member. It's important to be a rewards member. Those points add up! You can earn them every time you shop, and there are frequent double and triple point days! Your points can be earned even faster if you shop on those special days.
4. Get the Kohl's Charge Card…only if you promise to pay it off! I like the convenience of having my card so that I can scope the sales and sometimes get an additional discount for using my card. I always make sure to pay it off though or else the interest would erase any savings. Since I have a charge card with them, I also receive monthly coupons and promotions like scratch off cards with different percentages off.
5. Use Your Kohl's Cash! This should go without saying, but if you earn Kohl's cash… use it! It's free money. Don't let them expire.
6. Only Shop Clearance. It has taken me a long time to really learn this lesson, but EVERYTHING eventually goes on sale and then clearance at Kohl's. I love certain brands at Kohl's (LC by Lauren Conrad, for example), and I am starting to see the timing of when things get marked down. I never pay full price for anything at Kohl's, and you shouldn't either!
What's your best Kohl's tip?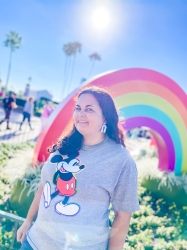 Latest posts by Krystal | Sunny Sweet Days
(see all)