First Birthday Party Ideas
This post was sponsored by Birthday Express.
Planning parties is one of my favorite things to do. From designing a dessert table to creating a centerpiece, I love the creative aspect of planning the ultimate soiree! Now that my son is getting older, parties are way more fun. He loves to do special activities and games (like arts & crafts parties or lawn games) that make parties unique. He also loves to help in the kitchen. We recently had a cupcake decorating party that will be one to top! If you have children or have sweet babies in your family, the first birthday is a great way to celebrate! For my son's first birthday, we opened our home to our friends and family for a special dinosaur themed shindig. While my little dude might not remember it, the photos are truly priceless.
What made his party unique was how we did special touches to personalize his big day. We had a personalized banner, a guest book with our photos, and we did special desserts. If you're planning a first birthday (or any other children's party), consider personalized birthday banners and other fun items from Birthday Express. When you order your party supplies online, it's MUCH easier to plan a celebration. The last thing I wanted to do when planning my son's birthday was hitting up a party supply store with a toddler. Oy! If you're looking to plan a special day, here are a few birthday party ideas.
First Birthday Party Ideas

Want to make your own personalized party? You're going to need to look through Birthday Express' many personalized party supplies! From plates to party favors, there are SO many options! It's very simple to get the process started. Follow along these three simple steps:


Your child will get a big kick out of seeing their name on their birthday party banner or plate, and it makes the day much more special. You can also turn these party supplies into special keepsakes! A birthday banner can be kept and saved or even reused another year!
I have two birthday party ideas that will delight your little ones. For a special little boy, you can do the little man birthday party theme. It's a classic mix of red, blue, and navy colors along with a vintage plaid pattern. It's a fun way to add a unique touch!

You can upload their photo and add their name. Don't forget the personalized party favor boxes!
Check out more about this party and how to personalize it online:
If you have a birthday coming up for a child that LOVES pink and owls, this sweet owl theme is going to be a real hoot.

From the pretty pink candles, the pink table cloth, and the colorful plates and napkins, this is definitely a great party theme to personalize too!
Check out more about this party and how to personalize it online:
Are you planning a party? What's your favorite party theme? You might like these Big Hero 6 Party Ideas!

Take better photos at your big party with these tips: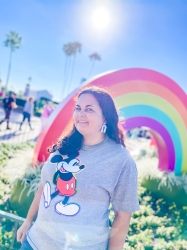 Latest posts by Krystal | Sunny Sweet Days
(see all)