How To Prepare A Fantastic Christmas Party
It is the most wonderful time of the year. Christmas is one of the most joyful holidays where people are in wonderfully good spirits. Every aspect of this holiday is breathtaking, starting with how it's about caring for others and spending time with loved ones, the music and songs, and the colors and jingles everywhere.
There is no one way to celebrate Christmas. Everyone has their own traditional ways they like to go merry by. The best way to celebrate the day and keep its spirit alive is by throwing an amazing party. Here, we bring you some tips on how to prepare for the ultimate Christmas party you will remember forever.
Choose Your Guests
The first step for the ultimate Christmas party is choosing your guest list. The guest list will help you decide whether you want it to be a casual party or if it will be more formal. Depending on the number of people you invite to the party, you can determine many factors for your party. These decisions include the place, budget, theme, and many other factors. Finalize your guest list so you can move on with the rest of the preparations.
Decide On A Theme
One of the most fun parts of preparing for a party is to decide on the theme. Christmas has more than one theme you can decide for your party, and these themes will make it easy for you to choose the decorations, food, music, and many other aspects of the party. If you're planning a party for your close family members, having a cozy, traditional party and wearing matching pjs for the family can be a great way to celebrate the day. You can watch quality Christmas movies and eating holiday treats. Another idea for a theme is a Santa Claus party where every one of your guests wears a Santa-themed costume. You can use Santa decorations and your colors greens, reds, whites, and gold. Remember to take many pictures to cherish this day and to keep the fantastic memory.
Be Creative With Ideas
You don't have to be traditional. Parties don't always have to be something that you host and work excessively hard on and stress over. One of the best ideas for a gathering is to wear Christmas-themed outfits and go shopping with your loved ones. A popular way is to plan something as simple as gathering around a Christmas tree and playing your favorite carols while you exchange presents. Another cool idea is to have your loved ones over, decorate your Christmas tree together, and then go out for snacks. The point is to be merry and make memories with the people you love.
Where To Host The Celebration
As previously mentioned, the number of people you plan on celebrating with helps you determine where to host your bash. If your home is not the most convenient place for you, then you may need to rent a hall or a bigger place for your setting. A great option is to host your gathering in a public place. Sometimes you may ask a close friend or a family member to let you host your party at their place if it's more suitable for your planned festival.
Set A Date For The Party
You'd think a Christmas gathering is on the day itself, but that's not always the case. Sometimes people have previously set engagements on the day, so set your festivities around the holiday. Anytime in December is good, especially the week before December 25th.
Make A Budget Plan
The budget you plan on spending on your celebration determines many things, including how big the gathering is, whether you will buy the food or make it yourself, where to host, and many other points. Always keep your budget in mind and don't go overspend. It's a time to relax and enjoy the company of your loved ones, so don't burden yourself by going way over the limit.
Christmas is more than just carols, food, and movies. It's about expressing your love and gratitude to everyone you love and giving a little something to the world. Spreading joy and helping others are some of the most important factors of the festive season. If all you do is make people smile, you'll have done a wonderful thing. There isn't one form of celebration for any festival, but you are the one to choose what the word means to you. Have a very merry holiday, and enjoy the most wonderful time of the year.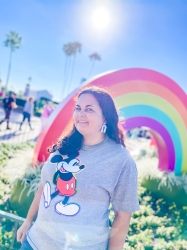 Latest posts by Krystal | Sunny Sweet Days
(see all)