DIY Warsteiner Beer Party Caddy
I really missed having a backyard. Before moving into our current home in the Tampa Bay area, we lived in a cramped, overpriced townhouse. The back porch was little more than a slab of concrete with a scenic view of a drainage ditch and our back neighbors' own porch. Now that we have a fenced yard again, we can have cookouts and dinners on the porch. Or, play baseball without worrying about breaking stuff. And sometimes, the best thing to do, is just sit and have a drink while you watch the dogs in the sprinkler.

If you want that perfect backyard-beer, crack open a Warsteiner and set up your own beer "party" crate. Keep reading for summer entertaining tips and a quick tutorial to have all your backyard essentials handy. Warsteiner is a German favorite that is enjoyed amongst friends and family in over 70 countries. It has been brewed by the same German family since 1753, focusing on continuous improvement and innovation in ingredient sourcing, brewing technique, packaging and consumer delight. Born of the outdoors, it is uniquely brewed in Germany using water from the Arnsberg Forest surrounding the brewery. This soft water is ideal for brewing and is in accordance with the German Beer Purity Law of 1516. Neat, right?! Plus, every Oktoberfest we seem to stumble upon an awesome local party that is exclusively serving up Warsteiner!

My wife took German as a foreign language in high school for three years, and she uses basically any excuse that she can find to celebrate German heritage, food, beer, and holidays. This is why we always end up with a case of Warsteiner in our fridge throughout the year.
Of course, if you need a simple and fun project to keep all your backyard drinking accouterments organized, check out this Warsteiner-inspired bar crate. It will help you keep all your accessories like coasters and bottle openers in one convenient place so that you won't have to interrupt your backyard time to go searching for them.
DIY BEER PARTY CRATE
Start with a small wood crate, which can be found in most craft stores. The ones that are 6-inches wide by 10-inches long, which is what we selected for this project, can accommodate a six pack of bottles plus your other tools easily.

Make the crate outdoor-proof by sealing it with a weatherproof stain or sealant.

We chose a gray stain to give the wood a weathered look. We also picked a sticker that we could varnish around.

Using magnetic tape strips, cut them down to accommodate a bottle opener which can be stuck to the outside of your beer crate.

Fill with napkins, coasters and whatever else you need for your outdoor oasis. The magnet will hold your beer bottle opener so that you can have it nearby, and this makes for the perfect tasting station when you're entertaining guests.

Now the only thing you have to do is decide what kind of Warsteiner you want to enjoy in your backyard.

The Pilsener is a good all-around choice that pours a pale gold with a clean, crisp taste that is perfectly balanced with hints of barley malt and mild hoppy bitterness.

The Dunkel is my personal favorite. it is a Munich-style dark lager with a rich, amber with a smooth taste that is nicely accented with satisfying notes of roasted barley malt. I like hoppy beers like this since they tend to be refreshing even when they aren't ice cold, which makes them perfect for a hot day.

Another great choice for a backyard beer is the Grapefruit Radler. It's a traditional 50/50 pilsener shandy that just tastes like summertime that is clean, crisp and refreshing and nicely balanced with satisfying mild hoppy beer taste.
Have you tried Warsteiner before? 
Beer Party Ideas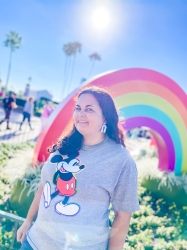 Latest posts by Krystal | Sunny Sweet Days
(see all)