Spring Clean Your Home with Essential Oils
Start Spring Cleaning Your Home with These 5 Essential Oils! If you enter your local grocery store, you will find shelves filled to the brim with cleaning solutions that contain one thing: harsh and unnatural chemicals. Essential oils are a great alternative for a clean and great smelling home. They are extracted from a variety of plants and are known to kill bacteria in a way that will not harm children or animals. To get your spring cleaning routine going, check out these following five essential oils.
Clean With Essential Oils

1. Lavender Essential Oil. Due to its sedative properties, you'll definitely want to add Lavender essential oil to your spring cleaning product list. It's a fresh and sweet scent most people enjoy. Although calming, this is one powerful oil with antiseptic, fungicidal, antiviral, and bactericidal properties. After cleaning, this will definitely help you relax and enjoy your clean home.
2. Lemon Essential Oil. Lemon essential oil smells and works just as well as your favorite bottle of lemon cleaner – without the harmful chemicals. It is a powerful antiseptic, antimicrobial, and bactericidal agent, often used to remove stubborn stains due to its acidity. It can be used in combination with other substances to make a floor cleaner or as an effective laundry detergent for white clothes.

3. Peppermint Essential Oil. Peppermint is a great essential oil to enhance any cleaning solution while simultaneously enhancing your mood. Add 10 drops of Peppermint oil to 2 ounces of water in a spray bottle for an easy way to kill germs on doorknobs, light switches, and faucets. Peppermint essential oil also is an excellent pest deterrent, and spring is the perfect time to use this as those pests are coming back into the picture.
4. Sweet Orange Essential Oil. Another essential oil with a divine smell, sweet orange is often used as a degreaser. It is also great for cutting boards, countertops, or anywhere where raw meat is handled. Use sweet orange essential oil to prevent the spread of Salmonella and E. Coli. It is antibacterial, antifungal, and the scent is known to help those who suffer symptoms of anxiety and insomnia.
5. Tea Tree Essential Oil.  When it comes to cleaning, tea tree essential oil is the warrior you need to fight against harmful germs and bacteria. It has properties such as insecticidal, antiseptic, antifungal, and antimicrobial. You can get awesome use out of Tea Tree essential oil in the bathroom to eliminate mold buildup.

For a healthy and natural spring cleaning experience, use lavender, lemon, peppermint, sweet orange, and tea tree essential oils. They will help clean, disinfect, and boost your mood in a natural, safe way for you and your family.
Do you make your own cleaning supplies?
Learn more about my crafts + recipes that use essential oils. Did you know you can stop by the Dollar Tree for essential oil supplies? You can also Make Your Own Cleaning Supplies at Dollar Tree.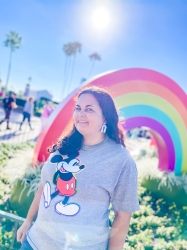 Latest posts by Krystal | Sunny Sweet Days
(see all)