7 Everyday Things That Can Hurt Your Eyes
Our vision is one of our senses we don't ever want to lose. You know how well you see isn't up to you; it's a decision that our genetics have to choose for us. However, you have the choice of maintaining your eye health; else you'll end up needing to order same day glasses when your sight fails.
You don't have to find yourself at this point, only if you can avoid subjecting your eyes to the wrong elements. The fact is that change in eye health is often out of our control; it's bound to deteriorate along with our age.
Without often realizing it, we indulge in numerous habits that leave long-lasting effects on our vision. In this blog post, we're examining 7 of the everyday practices that can make you struggle with your eyes.
1. Forgetting To Use Sunglasses
Don't be one of those who think sunglasses are to make you look good; they are beyond just adding to your looks. The most damage we do to our eyes comes from exposing our bare eyes to the ray of the sun.
You are bound to suffer many consequences if you walk around without sunglasses and even a wide-brimmed hat while you are in the sun.
Get sunglasses that have UV protection for extra protection of your eyes. You can also learn more at E Eye Place.
2. Excessive Exposure to Computer and Smartphone Screen
There's a reason why you are physically tired from staring at your computer or smartphone screen all day; more often, you find yourself straining your eyes to see the tiny texts on your screens.
Your eyes are dealing with blue light all day, and you experience a decrease in blink rate.
With the decrease in blink rate, your tear production reduces. This is why you are likely to suffer from blurry vision. Experts recommend a 20-20-20 rule, for every 20 minutes of screen time, look at an object 20 feet away from 20 seconds.
3. Overusing Redness Drops
After a long day in the sun or excessive screen time, your eyes are likely to be reddish, and you have a solution for it; your redness drops. While you may look at it as being a tiny miracle worker, using it excessively is bound to cause more harm than good.
While you intend to take the redness out and be fresh for the next day, using it heavily will lead to a reverse reaction.
Your eyes become excessively red since the vessels are being constricted, leading to a redness rebound.
4. Deciding To Ignore Goggles
You will be surprised to know the statistics of domestic accidents that affect the eyes annually. Rather, let me say the level of risks you are subjecting your eyes to while carrying out some everyday chores.
For instance, while gardening, your eyes are at risk from weeding, planting, or mowing the lawn. When specks of dirt and particles find their way into your eyes, they cause irritation or even scratching the cornea.
Indulge in the use of protective gear when carrying out certain chores.
5. Using Contact Lenses For Too Long
While contact lenses are godsent when you have less than perfect sight, you also need to be away from the danger of using them excessively. When using contact lenses, ensure that they are being used correctly and at a good proportion, else you'll be putting your eyes at risk.
Over time, contact lenses are bound to accumulate debris, lipids, cosmetics, and protein. All of which are not ideal for your eye health.
Due to the secretion of debris, bacteria can attach themselves to the lens's surface, causing infection to the eyes.
6. Rubbing The Eyes
It's always tempting to rub the eyes at some point, don't do it. Resist all the urge to rub your eyes constantly. When you scrub your eyes too much, you are contributing to the development of corneal thinning.
This is even prevalent in children. Caution children that constantly rub their eyes, this will help preserve their eye health.
7. Not Eating a Balanced Diet
Your choice of food could harm your eye health. For your vision, diet and nutrition are of importance. It would help if you stopped avoiding fruits and vegetables in your diet. Some fruits and vegetables are crucial to your ability to have a perfect vision.
Eat more vegetables, citrus fruit, nuts, grain, leafy greens, and fish.
More important to your eyes is consuming an optimum amount of water daily. By being well hydrated, you will produce the right amount of tears necessary for your eyes. Remember to skip foods with a high amount of sodium, which is responsible for hydrating your body.
By taking into cognizance all of these daily habits, you are bound to have better eye health.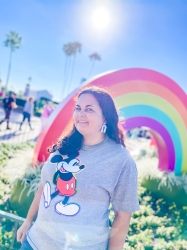 Latest posts by Krystal | Sunny Sweet Days
(see all)