Spring Cleaning Tips and Services
Cleanliness has become more of a priority for many people lately, so you may be amongst those who already have a head start on Spring cleaning. While cleaning your home may seem like a daunting task, I think everyone can agree that it's a necessary one. If you visit company website, you can find out how to get started on your home cleaning journey!
The good news is that with some helpful tips, the right products, and help from janitorial services in Calgary, you can have your home or business spic and span in no time.
Sanitizing and Disinfecting
Lately, this has become one of the trending topics with regards to cleanliness. However, germs have always existed, and proper disinfecting of surfaces can eliminate germs on places such as your countertops and reduce the risk of illness.
While sticky surfaces can be cleaned with soap and water, store-bought disinfectants or household staples such as bleach, vinegar, or peroxide should be used to sanitize surfaces in your kitchen and bathrooms.
Organizing Your Closets
Ugh, not this dreaded task! Don't worry, it can be done. Naturally, the primary purpose of organizing your closet is to eliminate clutter by sorting through your items and deciding what to keep and what to get rid of and it's handy to have bags and boxes available when knocking out closet cleaning.
However, when placing the items in the keep pile back into your closet it may be helpful to utilize plastic storage containers and new shelving to maintain organization and eliminate future cluttering.
Floors
While sweeping, mopping, and vacuuming may seem like simple tasks, deep cleaning floors can be more complex. Carpets need to be shampooed periodically to maintain freshness. Properly shampooing a carpet involves moving furniture, vacuuming, and treating stains prior to shampooing with water and carpet soap.
The sweeping and mopping part may sound self-explanatory offhand, however, there are professional mopping tips that can help you learn how to mop like a pro. Of course, the basics involve sweeping first, using warm water, mopping in sections, and rinsing your mop frequently, but it's also advisable to use microfiber mops and reusable mop pads.
Cleaning Your Appliances
Cleaning household appliances such as refrigerators, microwaves, and ovens can require some elbow grease as grime accumulates quickly, but regular wipe downs can reduce build-up. When cleaning your refrigerator, it's best to use vinegar or baking soda, while ovens can be cleaned using dish soap. If you're not au natural, products are available for appliance cleaning.
Professional Cleaning Services
This all sounds good, but the reality is that not everybody has the time to get all of this done, and some people may be limited by health conditions. However, there are professional services in your area that can get your Spring cleaning done for you. You can find janitorial services at https://gdi.com/edmonton/cleaning-services/.
Whether you do the scrubbing yourself or hire a professional to do it for you, you'll feel better once it's done. Cleaning may be a chore, but it's one that's well worth completing.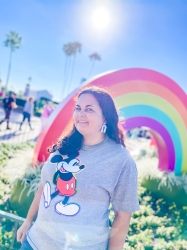 Latest posts by Krystal | Sunny Sweet Days
(see all)