5 Self-Care Books To Boost Your Wellbeing
It's been a bit of a crazy year, and frankly, self-care is feeling pretty critical right now! Perhaps you need a few hints and pointers to perfect your self-care regime? If so, be sure to check out these five self-care books to boost your wellbeing.
1 . The Self-Care Project: How to let go of frazzle and make time for you by Jayne Hardy
Jane Hardy will teach you all you've ever wanted to know about self-care. Here you'll learn how to take responsibility for your own joy. You'll learn how self-care is the best measure to help you fight off stress in our modern society. The Self-Care Project is perfect for anyone who has been feeling stressed out and is looking for some practical advice about turning that around!
2. The Self-Care Revolution: smart habits & simple practices to allow you to flourish by Suzy Reading
The Self Care Revolution is here to teach you how to thrive instead of survive! This beautiful book is the tool you need to restore your energy and boost your spirits. Learn all about the 'Vitality Wheel'; think of it as your self-care toolbox, allowing you to improve your health and happiness. Suzy Reading knows how you may be struggling and is armed with advice to help you change that!
3. Good Vibes, Good Life: How Self-Love Is the Key to Unlocking Your Greatness by Vex King
Ready to experience the self-love revolution? In this beautiful book, Vex draws from his own experiences, from adversity to new hope. The wisdom in this book will inspire you to prioritize self-care; eliminate toxic energy; put your wellbeing first; and build positive habits. Here you can learn all about meditation and mindfulness, set yourself new goals, and overcome fear. To get on the self-love journey, this book has every piece of advice you'll need.
4. 100 Days To Brave by Annie Downs
Annie Downs wants you to know that humans are born with bravery, yet many of us have lost our courage over time. In this fantastic book, Annie guides you to stop letting your fears hold you back. Now is as good a time as any to embrace your inner strength and tackle the limitations that you've set yourself! Want to spend 100 days discovering your authentic self? Then 100 Days To Brave is the book you've been searching for.
5. Declutter Your Mind By S.J. Scott and Barrie Davenport
This book is ideal for anyone who needs a break from worrying and anxiety. If you're someone who worries about every little thing, this book can help you to overcome this stressful habit. We've all heard plenty about decluttering your home, but decluttering your mind is just as important! Declutter Your Mind helps readers to consider how negative thoughts may be influencing their lifestyles. Throughout these pages, you'll learn how to practice mindfulness techniques and achieve a more positive outlook.
After reading all of these beautiful books, you're bound to feel inspired. You might even be thinking about writing a book and getting it published yourself! For inspiring writers, it's vital to read new and engaging books all of the time!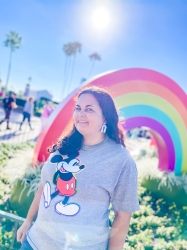 Latest posts by Krystal | Sunny Sweet Days
(see all)