6 Budget-Friendly Upgrades to Give Your Home
If you've spent much time on social media these last few months, you may notice that a lot of people have taken the extra time at home to make some renovations and improvements to their houses. Whether small or large, a man's home is his castle and why not have it looking its best. For those looking to create their dream home, the size of your bank account might be keeping you from getting started. Even if it seems out of reach, there is a budget-friendly option for each upgrade you want to make.
Try a Kitchen Remodel
This is perhaps one of the most expensive remodels many undertake, but it provides really high returns. Updating countertops and replacing old appliances with stainless steel can increase the value of your home up to 10%. The problem for many is that there is little understanding of the return compared against the value of the rest of the house. If you dump a lot of money into a new kitchen but have an old roof, dated interior, or even carpet, you won't have the return you would imagine. It may be in your best interest to spread the wealth, so to speak, when you are doing a remodel or updates. A serious kitchen remodel might require a private loan, but you can do a new coat of paint, updated light fixtures, and repainted cabinets yourself. You can also look at scratch and dent stores for newer appliances that may be in better shape than your old ones. You could also add a backsplash for cheap.
Change Your Floors
There is a lot of talk about hardwood floors, but sometimes they can be very expensive. If you are looking at hand-scraped, popular styles, you are definitely talking a lot of money. Fortunately, there are more affordable options that can still improve your value and look great at the same time. Hardwood adds class and warmth to a home, but with high-quality engineered hardwood or a laminate, you can achieve the same look. It is also easy to install laminate on your own, saving you a lot of money on professional installation. Tile can be another way to update your home, and though it is time-consuming to install it on your own, it also something that can be done. If you have carpet, giving them a good shampoo could completely change their look. It will also make your home smell better.
Paint Whatever You Can Find
It may seem like it's too easy, but adding a coat of paint to just about anything updates your home. Most people just stick with painting the walls, but adding a fresh coat to molding and trim does wonders for brightening your home. You can paint the front door a new shade of your existing color, or you could make it pop and add some visual interest to the exterior of your home. You can paint garage doors and shutters. Cabinets in the kitchen or bathrooms are also options, and you can completely change how dated your house looks by selecting trending colors.
Add a Deck to Your Yard
Outside living space is highly desirable, and whether you are going to add on a back deck or extend your front stoop into a porch, you will do a lot to upgrade your home. If you aren't a handyman, you may have to call in the professionals. The smaller your deck, the cheaper it will be, but you also have to account for functionality and the quality of materials. You need to have enough room for a grill and some outdoor furniture so between 200 and 500 square feet should be plenty of space. This could cost you around $5,000, but it is an investment that is well worth it.
Add Solar or LED Lights
It may seem like a small thing, but adding solar power to the lights around your yard and down by your mailbox is a good budget investment. It will save some money on the electrical ends of things. You don't have to remember to turn the front porch or garage light off each morning, a common occurrence that slowly siphon excess energy. Changing out the bulbs in your house for LED lights is also a cost-saving upgrade. These lights last up to 10 times longer than a traditional incandescent bulb and use much less electricity. The more environmentally-friendly your home is, the more a potential buyer would think its worth. LED and solar lights also make you feel good about your effect to protect the earth.
Look Closely at Your Windows
The windows on your home have several functions. They let light or fresh air, and they let you take in the beautiful outside world from the comfort of your home. If your windows are foggy, dirty, or out of style, you aren't really giving them an opportunity to function well. Depending on what you decide to do about your windows, you can update the look or functionality without spending a lot of money. Professional cleaning could take off the built-up grime, though you may need to have any double-pane windows that develop condensation repaired. New windows may be the way to replace old single pane, inefficient windows, reducing the heating and cooling costs that may accrue each month. Though there is a cost to replace the windows, you also some money on energy costs.
Whether you want to sell your home or just upgrade for your own enjoyment, these areas are manageable and budget-friendly. DIY options save money, and energy-efficiency decisions add long-term value.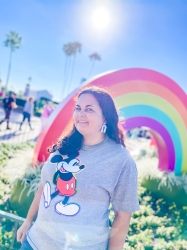 Latest posts by Krystal | Sunny Sweet Days
(see all)