How To Make Your Current Housing Situation A Good Fit For "Aging In Place"
According to the latest studies, senior citizens are the fastest-growing population in the U.S. In fact, the number of people over 65 is going to almost double in 2050. Research also shows that around 75% of seniors choose to stay at their homes as long as possible, meaning that more people are opting to age in place than ever before.
If you are thinking about the next stage of your life or you have a loved one over the age of 60, you are probably familiar with the concept of aging in place. But installing grab bars in your bathroom and widening your doorways often isn't enough. There are many renovation projects to consider.
It may not be possible for a senior to live independently forever. However, many changes can be made around the house to make it more functional and safer for them. If you are interested in these modifications, please continue reading and learn how to make your home perfect for aging in place.
Invest In A Home Lift
We all hope that our loved ones will stay in great shape forever. But what happens when the stairs become too much? You still want them to be able to move around the house without any issues. Therefore, investing in a home lift is a great idea.
Still, it's quite a big investment and you want to ensure you choose the best option possible. You want the lift to be safe and comfortable but also to fit in your home easily. So, how can you choose? It really depends on your situation. Most lifts can fit two people but there are options for more spacious lifts as well. Home elevator specialists at Stiltz even created a wheelchair lift which is perfect for someone who isn't mobile anymore.
Once you choose the size, there are several other factors to consider. For example – how much power does it consume? Is it easy to install? Does it make noise? When you find the best option for you and your family, you won't regret it. It really lasts for a long time and it will be a life-changer for your elderly family members.
Consult A Specialist
Remodeling a home to accommodate elderly people can be quite challenging. The good news is that there are many contractors out there that are specialized in aging in place home remodeling. A great tip is to call them and consider their advice. These contractors are known as CAPS (Certified Aging in Place Specialist) and they can really help you make changes to your home so that your loved ones feel safe. Don't be shy. After all, this process isn't an easy task and it takes a lot of effort and time. Consulting an experienced professional is sometimes the best thing you can do.
Make Some Changes In Your Bathroom
Everybody loves a bathtub but, unfortunately, they are often inconvenient for seniors. Nowadays many people are installing a curbless shower and adding grab bars. Professionals claim that this type of shower is the safest for elderly people. It's also very spacious and can often accommodate a wheelchair.
Another option is an adjustable-height showerhead that can help your loved ones bathe independently. If they need a wheelchair, make sure you have enough space in your bathroom, especially next to the sink. And don't forget the height of your toilet. The seat should be higher off the floor than standard toilets.
What About The Kitchen?
Your seniors may love cooking and enjoy preparing food for their family but the truth is that they can often get tired easily. The best solution is to include a chair or a surface where they can sit while they are preparing meals. It's great to be active but standing for long periods of time is certainly not recommended at their age.
If they are in a wheelchair, make sure there is enough space so they can adjust their position and move around without any problems.
Installing cabinets over the stove is a bad idea for many reasons. First of all, if a person has a problem with balance, leaning over a hot surface can be a disaster. Lower cabinets are a much better option, especially if they are sitting a lot or can't reach the top cabinets. Opt for D-type pulls since they are proven to be the easiest to grip.
Getting older is very emotional for the whole family and aging in place is a great way for seniors to feel their best. Moving into a nursing home can be very stressful and, luckily, it's often easy to avoid nowadays. However, if you still need it, choose somebody like Eden Village.  Aging in place is possible and it's probably the best option for your elderly family member. Follow this simple guide to make your home safe, convenient, and comfortable for them.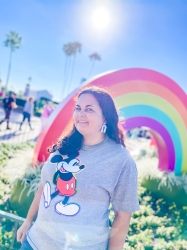 Latest posts by Krystal | Sunny Sweet Days
(see all)