Liven Up Your Next Book Club with Literary Drinks
Want to liven up your book club? Then your next book read should be Tim Federle's Tequila Mockingbird Cocktails with a Literary Twist. A cocktail recipe book for the literary-minded Tim Federle takes classic literature and transforms them into fun party punch cocktail drinks like 'The Joy Luck Club Soda,' or one that is sure to be a fave, 'The Last of the Mojitos.' Perhaps you are into more of a 'Bridget Jones Daiquiris'?
Tequila Mockingbird comes with 65 literary-inspired drinks along with a bit of a refresher course on the classic book it was inspired by. It includes all you need to make these drinks and have your book buddies cracking up. There is one recipe titled 'Romeo and Julep.' Need we say more? Federle doesn't leave you hanging for a snack either, as he even included some fun snack recipes, too, like 'The Deviled Eggs Wears Prada.'
The literacy puns never stop in this book, packed with fun literary trivia, drinking game ideas, and fun illustrations feathered throughout. The recipes are easy to follow; no mixology degree is needed. Some are familiar cocktail drinks just given a clever name, such as 'One Flew Over the Cosmo's Nest.' It is basically your Cosmopolitan drink. However, some are a bit more original, like the 'Cooler Purple,' which mixes blackberry liquor and peach schnapps. For those who don't drink, there is a selection of non-alcoholic cocktail drinks too.
Theme It
Is it your turn to book host? Create your next book talk gathering with a theme! There is a lovely section called 'Drinks for the Dames' and 'Gulps for Guys.' An inspired collection of drinks inspired by the strong-willed literary heroes/heroines of classic/ modern literature. Pick a hero or heroine and her book to read. Then come back to discuss serving the inspired drink with it.
Have a Raffle
Make your book club gathering even more special and get two of these! You know your fellow book lovers are going to love it. Raffle the second off for a chance for one to bring a copy home for themselves.
There is even a sequel. Are You There God? It's Me Margarita filled with more cocktails with a literary twist. Including:
Fifty Shades of Grey Goose
The Handmaid's Ale
Little Soused on the Prairie
Tender Is the Nightcap
A Room with Vermouth
Go Get a Scotch, Man
As I Lay Drinking
That will keep your book-loving literary lovers' loving book club night.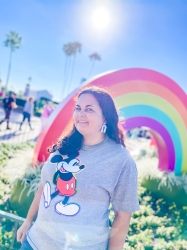 Latest posts by Krystal | Sunny Sweet Days
(see all)