Top Ways To Enjoy Sunny Days In Your Outdoor Space
If you're like most people, when the weather starts getting really nice and sunny in the spring and summer, you can't wait to get outside and enjoy it. Your backyard, front porch, or even a balcony is a great place to do just that. That way, you'll have the benefit of all the commodities your home has to offer while still spending time outside. The list of things you can do when the weather is nice is practically endless, but in case you need some inspiration, here are a few great ideas for enjoying sunny days in your outdoor space.
1. Meditate
When the weather is nice, the last thing you want to do is sit inside. And chances are good that you feel more energetic and happy when you're outside than you do sitting at home. This combination makes it an ideal opportunity to enjoy those sunny days with a retractable awning shielding you from the harmful UV rays, a comfy chair, and perhaps some music to help you drift away. It is important to meditate in the shade when you're doing it outside, however. That way, you don't have to worry about sunburns or other conditions caused by too much sun exposure. If you live in an area where you get a lot of sunny days, you can even decorate your space and turn it into an outside meditation haven.
2. Outdoor Book Club
If you and your friends are already in a book club, or simply happen to have read the same book recently, a good way to enjoy the nice weather would be to have your next meeting outside. Whether it's the front porch, the yard, or even a cozy balcony, all you really need is a comfy spot to sit and good weather for people to come together to discuss their books. You could even create themed cocktails to go with the book you're discussing, and have the recipes written out on a chalkboard so everyone can see them. It's a great way to spend some quality time with friends, share a few drinks, and enjoy the warm, sunny weather, especially if you're more of a laid-back type.
3. Play With Your Dog
Playing with your dog between walks is a great way to bond with your pet. When the weather is nice, what better way to seize the day than to play some backyard games with your pup? It's a great way to get both of you active and tire your dog out at the same time, but also just enjoy spending time with them. You can play hide and seek, chase bubbles, hide treats around the yard, or anything else that would get your dog running and having fun. If you're not much of a runner yourself, there's no need to worry – there are always classics like playing catch, or you could even bring out the Frisbee. Playing with your dog, especially outside where there are more distractions, is a great way to reaffirm the commands it already knows, as well as teach it new ones, and doing so in your backyard where you don't have to worry about your dog wandering off is even better.
4. Paint
If you lean more into the arts and crafts side of things, you could make good use of your outdoor space by painting. The sun helps bring out the best in colors, and it's a great way to spend time doing a hobby you like, and also enjoy some fresh air. All you need is your canvas, paint, and a good brush to get started. It can be a great way to practice painting a landscape or spend some time painting a feature from your backyard like a pergola, or the side of your house – which is a great way to better understand depth and space. Of course, you could go in another direction and let the sunshine inspire you to experiment with bright colors in your abstract paintings. The options are pretty endless whenever you're painting, but doing it outside can make it even better since it can provide you with a feeling of serenity and freedom.
5. Have A Barbecue
If you want to go all out, have a barbecue! If the weather is nice enough that the grill can be used, gather up some of your friends or family members and have a big party outside. You could even use it as an excuse to rearrange your yard so everyone has plenty of room. All you need is a good grill, some meat, and veggies to throw on the barbecue, as well as some drinks and snacks for those who want it. It's a great way to bond with your friends over food and drinks, and considering how nice the weather is, there's no need to worry about stuffy ventilation or anything else that can sometimes come with indoor events. Good food, good company, and great weather – it doesn't get much better than that.
6. Plant Some Flowers
If you have a green thumb and like doing things that help the environment, you could use the nice weather to plant some flowers in your outdoor space. Whether it's a bunch of wildflowers or something more exotic, there are plenty of ways you can make your yard even better with flowers. They not only add color and beauty to your outdoor area, but they also attract butterflies and birds, and if you have a green lawn, they can help it grow even better. You could plant some flowering plants that are native to your area so you know they're going to grow well, or you can go with a variety that needs to be potted and taken inside once winter starts rolling around.
7. Remember to dress for the weather
In order to enjoy all of these wonderful activities in your outdoor space, it's important to dress with the weather in mind. For keeping yourself cool throughout the day, be sure to wear light materials such as cotton tops and linen skirts or dresses.
Keeping yourself cool will mean you can enjoy more of the activities that you get up to when enjoying the sunshine with friends or family.
Start living life to the fullest by making the most of your sunny days in your outdoor space. Whether you want to spend time meditating, playing with your dog, painting beautiful landscapes, or just relaxing with some friends over a barbecue, there are plenty of ways you can enjoy the nice weather. Doing activities like these, especially while you're soaking up vitamin D, can help you feel refreshed and reinvigorated.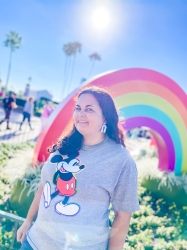 Latest posts by Krystal | Sunny Sweet Days
(see all)