Spooky Sliders | Monster Chicken Sandwiches for Halloween
Are you ready to get spooky? These seriously sweet and scary sandwiches will have you ready for your Halloween get-together! You can serve up a savory Halloween treat without a lot of fuss.
To celebrate with this fun party dish, you need hamburger buns, chicken patties, cheese, green olives, lettuce, and toothpicks. I also have an alternate idea using slider buns and cheese, so keep reading for more Halloween sandwich fun!
How to Make Halloween Sandwiches
Start by carving out triangle teeth from the cheese slices. Place a piece of lettuce on each bottom bun. Heat the chicken patties according to the package instructions and place on top of the lettuce.
Add a piece of cheese on top of the chicken patty to "expose" the teeth.
Place the bun on top and enjoy!
Halloween Chicken Sandwiches
Make a spooky Halloween savory treat for your next fall party!
Ingredients
Chicken Patties
Hamburger Buns
Cheese Slices
Green Olives 
Lettuce 
2 toothpicks per Sandwich 
Instructions
Using a knife, carve out triangle teeth out of the cheese slices.
Place a piece of lettuce on each bottom bun.
Heat the chicken patties per package directions a place them on top of the lettuce.
Then add a piece of cheese to the chicken patty exposing the teeth.
Place the top bun on top.
Using toothpicks, create monster eyes with the olives.
Want to swap it out for a pizza slider?
You can use the same idea and give a slider eyes using sweet rolls and cheese!
My son loved to help, and we cooked them in a flash. You would never think that King's Hawaiian could help you serve up something sweet, but it can! They have a variety of products that make for an exciting meal, and this line of bread is awesome! The unique flavor lets it be used in both sweet and savory recipes. You can get creative and make something totally unique.
To get started, gather your ingredients. You will need King's Hawaiian dinner rolls, a block of mozzarella cheese, pepperoni, and candy eyes. You can use gummies or chocolate (we used green round gummy candy).
You're going to make mummy sliders with a twist. This pizza inspired dish combines my love of pepperoni and cheese with a sweet topping that brings together all of my favorite flavors of Halloween.We love pizza sliders, so this is that recipe with a twist! Pile high your favorite toppings, and get ready to "criss cross" the mozzarella to make your mummy. Add candy eyes and enjoy!
What is your favorite easy recipe for Halloween? Will you try these seriously spooky sliders? Don't forget to BOO your neighbors this year! It's a fun Halloween tradition that you should try.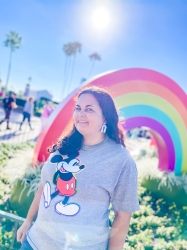 Latest posts by Krystal | Sunny Sweet Days
(see all)