Kindness Rocks: Random Acts of Kindness
This post is sponsored. All opinions are my own. I encourage you to teach kindness and spread the word!
It's a simple act of kindness that's makes a big impact on people across the country. Rock painting groups hide painted rocks in public areas in hopes to brighten someone's day. It builds connections in our community and is a positive act of random kindness. The Rocking Communities philosophy give without expectations one colorful rock at a time.  Once you find a rock you are supposed to post a picture on the groups Facebook page, then you can re-hide for someone else to find or keep it, if you choose to keep it you are supposed to replace it with one you created, but this is not mandatory.
Since October is National Bullying Prevention Month, this is the perfect time to spread kindness and share how to Be Internet Awesome. This is a month-long iniatitve to spread kindness online, and we can conquer cyberbullying by encouraging our community to put forth kindness into random acts both online and off. Did you know that Cyberbulling is the #1 online safety concern in the classroom among teachers and 28% of students have experienced bullying personally? Since only 20-30% of students notify adults about bullying, it is a struggle to monitor and help. More than 50% of parents are concerned about their child being bullied (I'm one of those parents!).
How to Be Internet Awesome
Be Internet Awesome is Google's free program that is designed to teach kids the fundamentals of digital citizenship and safety. The program is available in English and Spanish and consists of an ISTE standards aligned curriculum, ready-made Pear Decks for each lesson, Interland – an adventure-packed online game about digital safety and citizenship – and plenty of resources for educators and parents.
SMART: Communicate responsibly online
ALERT: Identify phishing, scams, and non-credible sources online
STRONG: Protect your personal information
KIND: Be kind and positive online
BRAVE: When in doubt about anything online, talk it out with an adult

When you access the materials online (there are teacher curriculums, a family guide, and tips), you can learn how to make a difference everyday. Interland is a game to play to help make safe and smart decisions online.
It's cool to be kind: be a positive digital citizen by treating others how you'd like to be treated online, just as in real life. How you and your friends treat each other online will have a big impact on the digital world your generation builds – not to mention the offline world too.

How Can You Spread Kindness?
I wanted to channel my son's artistic interests and participate in a kind online community by joining our local rock painting community. If you are ready to spread kindness online, join your local rock community and I challenge you to paint a few rocks, hide them, and join in the fun online! Remember,
#BeInternetAwesome
and
#ItsCoolToBeKind
!
What are Kindness Rocks?
The rock kindness project is like Geocaching without the clues. Rocks are hidden in totally random places, everywhere from parks to grocery stores to doctor's offices. They come in every shape, size and color. One would think this activity was only for children, now so many adults of all ages have joined the fun! Painted rocks are as unique as their creator; some rocks are painted by quality artists, others by novices, lots by children. Some rock artists paint in themes, other randomness; some like large rocks, others small, still others like odd shapes and sizes.  
While most area groups have a Facebook page where you can post your finds, others go beyond spreading the kindness by having events where you can come and paint rocks using their supplies and rocks.
Sometimes themes are planned for a community events and special rocks are hidden during a 5K, for example.
My son's grandmother has gotten him into painting, hiding and hunting rocks. Recently they did a rock scavenger hunt which was an event with her local group. He is now hooked! We got him a rock painting kit for Christmas, and he loves to paint them. The excitement he has at finding a rock is contagious, but, the BEST . thing is that these random acts of kindness are teaching him a worthwhile lesson that can be applied both online and off!
Are you ready to do a random act of kindness online? I challenge Dwan, Jennifer, and Kristen to share the message of kindness! Post about the act and encourage your audience to be kind online and participate in this challenge with inspiration from Be Internet Awesome. EVERYONE is welcome to participate!
Need ideas for random acts of kindness? Join your local rock community online and paint rocks and share them with the online community. Post a positive comment about a friend's picture. Send a positive message to a friend. Help your kids spread kindness online with
Kind Kingdom.
Have you found a painted rock? Did it make you smile? Did it brighten your day? If it did the rock has served its purpose!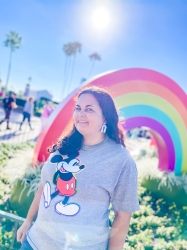 Latest posts by Krystal | Sunny Sweet Days
(see all)