The Ultimate Tourist Guide to NYC
As you plan your New York City trip, it's no surprise if you don't know where to begin. New York is a vast city, filled with people and sights to see. First-time travelers may have a difficult time figuring out where to stay and what to see while they are there. This is especially difficult if you have a limited time in New York. One good tip is to stow your luggage somewhere as soon as you arrive so you can immediately start seeing the city without having to drag suitcases everywhere. There is so much to see when you're in the city that you will never have time for it all. This is why it helps to have an itinerary or at least a plan of the best places to visit while you're in New York.
What Neighborhood to Stay In
In New York City, there are a lot of options for places that you could stay in. If you're visiting for vacation, then you may want to consider Midtown Manhattan first. This is where the tourists stay and for good reason! Manhattan is one of the most interesting boroughs. If you love film and media, then you can probably guarantee that at least one of your favorite movies or television shows was filmed in Manhattan.
If you've never been to New York, Manhattan may be what you think about when you think of New York City. There is so much to do, just in Manhattan alone. You don't have to travel far to fill your day with exciting new sights or events. Even the nightlife is bustling in Manhattan. When you're on a short trip, this is where you want to be. You can see as much as possible in a short amount of time. Most of the hot tourist areas are in Manhattan.
How to Travel Around New York
New York is unique compared to other American cities. On the one hand, it's such a huge city that you need to have some form of transportation. There will be a lot within walking distance, of course! This is particularly true if you stay near Grand Central Station. If you're walking, you can always take advantage of Google Maps Location – Westgate New York Grand Central. Google makes it easier than ever to find your way around cities that you've never been to before.
In addition, you can find yourself a tourist map of the city and follow it. If you're spending the day on foot or if you are planning your journey for the next day, it can help to have a map that outlines all of the different hot spots that you can visit. If you need to go farther or if you don't want to walk, there are other forms of transportation available.
A lot of New Yorkers utilize public transportation. There is a city rail and bus system that is inexpensive and a great way to get around New York. To make it even better, it operates all day, every day, for 24 hours and 7 days a week. You can always catch a bus or a train to a new place. Taxis are also an option for fast and convenient travel. You can expect to find taxis all over the place while in New York.
Now, if you decide to drive yourself, then you definitely want to take advantage of Google Maps. When you have GPS, you can navigate yourself around New York with relative ease. The only problem with NYC driving is that finding parking can be difficult. Don't worry, you can plan your parking too.
Where to Visit in New York
New York is filled with great landmarks to see while you are there. Some of the most popular tourist hot spots that you don't want to miss include:
Grand Central Station
Time Square
Broadway
Radio City
Rockefeller Center
There is a lot for tourists to do just in Midtown Manhattan. By no means do you have to travel far to get to the best tourist hot spots. Then, if you want to travel further, public transportation can take you through the different boroughs.
When it comes to planning your NYC trip, it should be exciting! For a lot of people, that excitement comes mixed with a lot of stress too. If you have a tourist guide to help you before and during your trip, it can make the whole trip easier and a lot more fun. Take a lot of photos when you go, and here are my favorite tips for organizing your travel photos!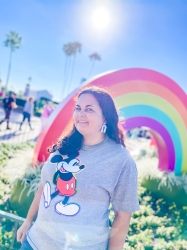 Latest posts by Krystal | Sunny Sweet Days
(see all)