A Guide To Living Like A Parisian For The Weekend
If you're heading to Paris for the weekend, one of the best things you can do is live like a Parisian – forget living like a tourist! You'll have a much better time if you choose to live like the locals. While Paris is full of different cliches, there are ways you can experience them that go against the grain – but don't feel bad if you don't want to experience these cliches at all. This comprehensive guide will give you a good idea of what to do to live like a local in Paris!
Aim To Walk As Much As You Can: As Paris is such a beautiful city with so much to see, aim to walk as much as possible. Taking public transport is fairly easy if you need to, but you'll miss out on so much if you do that everywhere you go. Take a relaxing stroll whenever possible, and to make it even better, don't forget to take some wine and cheese with you! You never know where you might find a nice seat by the Seine.
Don't Be Afraid To Get Lost: If you want to discover Paris, you can't be afraid to get a little bit lost. While it's probably a good idea to have a map and your mobile phone to hand just in case, don't be afraid to take that cobbled sidewalk or quiet looking street to see what you find. You just never know what's waiting around the corner for you in a place as incredible as Paris!
Learn A Few Basic French Phrases: French people will appreciate it if you attempt to learn a little French before you arrive – plus, it'll probably make your trip much easier to navigate. Always say 'bonjour' when you enter a store, and if you're really struggling with something, don't hesitate to use the translate app on your phone. Don't worry about making mistakes too much – people will appreciate that you tried.
Avoid Supermarket Chains: Why visit a supermarket chain when you're somewhere as beautiful as Paris? Visiting a specialty store or market stall will leave you with much higher quality produce and items, and you'll be glad you visited. You won't find cheese like it anywhere else!
Have A Picnic: You shouldn't visit Paris for the weekend without having a picnic! Get some French food that you've been dying to try and head to one of the awesome parks. There are so many amazing spots to choose from. The Seine is just one popular spot – you could go to Square Rene Viviani, which is a park near to Shakespeare and Co book store and is home to the oldest tree in Paris.
Try The Canal St Martin: There's nothing wrong with visiting the Seine, but don't forget to head over to the Canal St Martin! It has been the backdrop to various films, including Amelie and Hotel Du Nord. The district is lively and the stores and cafes are open until the early hours.
Take Your Time With A French Coffee: Take a book to a cafe if you're alone and enjoy a French espresso. It might be strong, but it's the perfect drink to enjoy before a day of exploring! Don't forget to use the water along with it to cleanse your palette before tasting your coffee. Don't down it in one, either, or you may get some funny looks. Take your time with the espresso, like the French do. Parisian roasters Café Lomi, Coutume and Belleville Brûlerie are all amazing choices to make; you can find their beans at cafes all over town as well as at their own premises.
Don't Miss Some Of The Most Famous Festivals: Paris has some incredible festivals that feature live music, such as the Paris Jazz Festival and Classique au Vert. The atmosphere to many of these festivals is one you will remember, and many of them you can visit are free!
Do Some Souvenir Shopping At Flea Markets: Paris is not short of incredible flea markets that you can pick up some awesome treasures at. Many say that the biggest and best flea market is the Marché aux Puces de St-Ouen, in the north of Paris, with more than 2000 traders spread across 15 marchés. However, there are many you can explore and get lost in. See what unique finds you can bring home to impress your loved ones!
Have A Few Drinks Somewhere Educational: Visit Bar Hemingway at the Ritz and explore the history behind it – Hemingway allegedly liberated it in WWII and it's filled with memorabilia. Plus, the cocktails are fresh and amazing – but don't worry if they aren't your thing, as high quality wine is all over the place and there's something to suit everyone's tastes.
Wear Your Sunglasses Everywhere You Go: Whether you're visiting in the summer or the winter doesn't matter – don't forget to wear your sunglasses! Parisians take their eye health very seriously, and sunglasses protect the delicate eye area from the sun's rays and other atmospheric problems. You won't squint, causing premature wrinkles, and your Paris outfits will all look much cooler.
Sit Outside In The Winter: No, Parisians don't just sit outside during summer. Their apartments are incredibly small, which means they aren't deterred from sitting outside at any time of year. Many places have seats and tables outside year round, so pull up a chair and enjoy the scenery. Certain cafes may even be extra hospitable and give out cosy blankets to keep their customers warm!
Buy A Fresh Baguette: A fresh baguette is basically a must have accessory in Paris – and when you're done mooching about the city with it, you can smother it in cheese and enjoy it with a nice glass of red. Buy your baguette early in the morning and you may be able to enjoy a little bit straight from the oven. There's nothing like a warm, freshly baked, Parisian baguette!
Wear Sensible Shoes: If you're going to be exploring Paris on foot for the weekend, or for most of the weekend, then you're going to want to make sure you have sensible shoes. Now is not the time to wear shoes with no support or shoes that rub your skin raw or you will no doubt regret it. Do you ever see a Parisian struggling with their feet, looking pained to walk? No, you don't. You only ever see them looking ridiculously chic. Make like a Parisian and throw on a pair of trainers with your outfits, preferably Stan Smiths. Parisians all love Stan Smiths and they wear them with absolutely everything, from summer dresses to plain jeans and t-shirts.
Head To Some Of The Most Famous Bridges: The most famous bridges in Paris also happen to be beautiful, and their rich history makes them well worth a visit. You've probably heard of the love lock bridge – although you're not supposed to put locks on there anymore, as it's considered a safety hazard. Make a note to visit Alexander III bridge, the The Pont Mirabeau and its statues, and other famous bridges. 
Know How To Dress When You Go Out: Did you know that certain clubs in Paris will actually turn you away for over dressing? That's right – showing up in the sharpest suit or the nicest pair of shoes might actually be frowned upon. Chic but casual is probably a good way to go in many of the Parisian clubs and bars, although you should do your research first to make sure you're not bitterly disappointed when you arrive at your chosen venue.
Don't Rent Something Fancy To Drive Around In: If you're going to ignore the 'travel on foot' advice that's fine, but you should think twice before you rent something fancy to drive around in. Why? Because Parisians will try to fit their car in just about any space, and this often results in knocks and scrapes. This doesn't really bother them, but the quote you get upon returning your rental will likely bother you.
Don't Neglect To Visit The Museums: Just because you're living like a Parisian doesn't mean you should skip the museum trips. Visiting museums and art galleries in Paris is a must, and Parisians actually do it regularly thanks to the deals available. Those under 25 years old can often get in free of charge, so take advantage of this. Parisians are cultured and sophisticated, so you should make an effort to be, too.
Living like a Parisian for the weekend will give you an even better taste of the capital of France, and you'll love feeling like a local, even for a short time. Although people may be able to tell you're a tourist, you'll have a wonderful experience and feel far more cultured by the time it's time to return home.
How will you live like a Parisian when you visit the French capital? Leave a comment to let us know!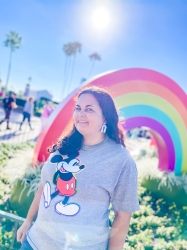 Latest posts by Krystal | Sunny Sweet Days
(see all)