Disney Chocolate Chip Cookies: How to Make Jack-Jack's Num Num Cookies
These are by far one of the BEST treats at Disney that we have ever had. They were found at Hollywood Studios in The Incredibles area, and they were also spotted at Disneyland's Pixar Pier too. Thanks to a review copy of The Unofficial Disney Parks Cookbook by Ashley Craft, I learned how to make them at home. Give this sweet Disney dessert recipe a try.
How to Make Jack-Jack's Num Num Cookies
When all you want after a long day of waiting in lines is a sweet treat, Pixar Pier has you covered! These monstrously thick cookies originated with the hit movie Incredibles 2, when Bob Parr has to use "Cookie Num Nums" to lure his baby, Jack-Jack, out of different dimensions. Serve these rich and delicious cookies with a side of milk.
SERVES 3
3 tablespoons unsalted butter, softened
3 tablespoons vegetable shortening
1⁄4 cup light brown sugar
1⁄4 cup granulated sugar
1⁄2 teaspoon vanilla extract
1 large egg
1 cup milk-chocolate chunks, divided
3⁄4 cup all-purpose flour
1⁄2 teaspoon baking soda
1⁄2 teaspoon salt
‌Preheat oven to 375°F. Line three (4″) ramekins with parchment paper and set aside.
‌In the bowl of a stand mixer, add butter and shortening. Using the flat beater attachment, cream together well. Add brown sugar and granulated sugar, and beat 2 minutes. Mix in vanilla and egg, then mix in flour, baking soda, and salt. Stir in 3⁄4 cup chocolate chunks.
‌Pack each ramekin with about 1⁄2″ cookie dough and bake 15 minutes.
Allow to cool completely, about 15 minutes, before removing from ramekins.
DID YOU KNOW?
The character Jack-Jack displays eleven different powers in the movie Incredibles 2. These include bursting into flames, invisibility, laser vision, teleportation, and turning into a demon. And you thought normal babies were hard to handle!
Disney Recipes
Excerpted from The Unofficial Disney Parks Cookbook by Ashley Craft. Copyright © 2020 by Simon & Schuster, Inc. Photography by Harper Point Photography. Used with permission of the publisher, Adams Media, an imprint of Simon & Schuster. All rights reserved.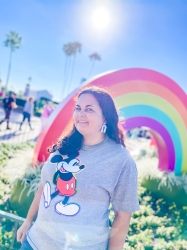 Latest posts by Krystal | Sunny Sweet Days
(see all)