Cookies and Cream Mickey Cupcakes
Love a delicious sweet treat? Bring the magic of Disney home with these Cookies and Cream Mickey Cupcakes! The Unofficial Disney Parks Cookbook is FULL of amazingly sweet treats that you can make with your family. I was thrilled to review this book and feature a few recipes, and this is the first one!
Main Street, U.S.A., Disneyland
Candy Palace on Main Street, U.S.A., was renovated in 2012 and given a very sweet interior. Many of the features are meant to look edible, such as the chandelier that seems to be dripping ice cream, and the exit sign shaped as a wrapped candy. And among its actually edible creations are delectable, supersweet Cookies and Cream Mickey Cupcakes. Topped with the iconic mouse ears, these popular treats are easy to whip up and sure to please.
THIS RECIPE YIELDS 24 CUPCAKES.
For Cupcakes
3 tablespoons salted butter, softened
1 1⁄2 cups granulated sugar
2 large eggs
1 teaspoon vanilla extract
1 1⁄3 cups all-purpose flour
1⁄4 teaspoon baking soda
2 teaspoons baking powder
3⁄4 cup cocoa powder
1⁄4 teaspoon salt
1 cup whole milk
To make Cupcakes: Preheat oven to 350°F. Line two standard muffin tins with cupcake liners and set aside.
‌In the bowl of a stand mixer, add butter and sugar. Using the flat beater attachment, cream together well. Add eggs and vanilla. While mixer is running, add flour, baking soda, baking powder, cocoa powder, and salt; continue mixing until well combined. Add milk slowly.
Scoop batter into prepared muffin tins, filling cups just above halfway.
Bake 15 minutes or until a toothpick inserted in the middle comes out clean. Remove from oven and allow to cool completely, about 1 hour, before frosting.
For Frosting
1⁄2 cup salted butter, softened
4 cups confectioners' sugar
8 ounces cream cheese, softened
2 tablespoons heavy cream
10 chocolate sandwich cookies, crushed
48 mini chocolate sandwich cookies, whole
To make Frosting: In the bowl of a stand mixer, add butter, confectioners' sugar, cream cheese, and heavy cream. Using the flat beater attachment, whip until light and fluffy. Add crushed cookies and mix until combined.
Scoop frosting into a piping bag fitted with a large star tip. Swirl a generous amount of frosting on each cupcake, creating a pointed mound. Stand a mini sandwich cookie upright on either side of pointed mount to create Mickey Mouse ears.
MIX IT UP
Frosting swirls are adorable, but if you prefer less frosting on your cupcakes, you can just use a knife to spread a thinner layer of frosting on top of the cupcakes—enough to push in the mouse ears.
Disney Recipes
Excerpted from The Unofficial Disney Parks Cookbook by Ashley Craft. Copyright © 2020 by Simon & Schuster, Inc. Photography by Harper Point Photography. Used with permission of the publisher, Adams Media, an imprint of Simon & Schuster. All rights reserved.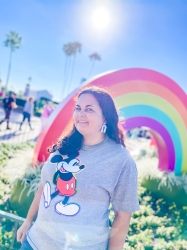 Latest posts by Krystal | Sunny Sweet Days
(see all)