How to Make Simple Sugar-Free Swaps
This shop has been compensated by Collective Bias, Inc. and its advertiser. All opinions are mine alone. #TUMSSugarFree #PassTheTUMS #CollectiveBias
Giving up sugar isn't for the weak. It takes preparation, endurance, and even support from family and friends. My journey toward a more sugar-free life has taken time. Besides cutting out soda or nixing sweets, there's other measures you can do to go sugar-free!
How to Make Simple Sugar-Free Swaps
Read labels

. I've become the queen at reading and interpreting ingredients. I recently was reminded of this when I visited Target to look for TUMS* Sugar-Free. You can also find it at Walgreens, CVS, Rite Aid, and Amazon.
If you need sugar-free heartburn relief, look for TUMS. It has all the extra-strength power of TUMS without the sugar.
Reading the label showed me it was sugar free, and it is the #1 Pharmacists recommended antacid brand. I was looking for TUMS to help prepare for an upcoming road trip. You just never know when you will need heartburn relief, so I like to carry a few essentials to make sure our travels are easy breezy! I don't like to worry about what foods I eat on the go will trigger heartburn symptoms, so by carrying TUMS I have that peace of mind that fast relief will be available if needed.
TUMS Sugar-Free goes to work in seconds. It provides me with fast heartburn relief. Be sure to click here to save when you shop for TUMS!
Other Sugar-Free Tips
Look for sugar-free coffee alternatives. Coffee was a tough one for me to swap. Luckily there are both dairy-free and sugar-free creamers! After a few days, I didn't miss my regular cream and sugar coffee.
Drink more water. Drinking more water helped me cure my cravings! I would feel more full, and there's nothing wrong with being hydrated.
Watch out for foods that give you heartburn. Keep track of your triggers. I actually use a food journal to help me meal plan and track my dietary changes.
Identify your sugar cravings. You know how you can't go to the movies without popcorn?! The connection between sugary sweets, like having ice cream after a hot day, can trigger our sugar cravings. If you know in advance that you usually indulge in a sugary treat every Saturday evening, you can prepare yourself to do something different instead. For example, banana "ice cream" has helped make desserts an easy thing around here. Instead of opting for traditional ice cream, I freeze bananas and blend it together. It helps calm my sugar cravings!
Do you need extra motivation to go sugar-free?
Use this quick printable to help you map out your goals and plan for going sugar-free and how it can help you.
Create a sugar-free strategy. This worksheet will help you design a plan to go sugar-free. List out what you are giving up and what you are adding in. For example, give up soda, sugar in your coffee, ice cream, and candy. Consider adding in sugar-free alternatives like TUMS, drinking more water, and make sure to read ingredients to ensure you are skipping sugar for good.
Dream up what results you hope to see by giving up sugar. Do you hope to have more energy? Do you hope to feel better or not have any more cravings?
Free Fitness Printables

What can you do to help swap for sugar-free options?
*Refer to the TUMS bottles for full directions, and use as directed.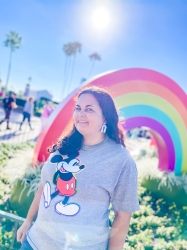 Latest posts by Krystal | Sunny Sweet Days
(see all)