Holiday Traditions: Bicycles Under the Christmas Tree
This post is sponsored by Huffy; however, all thoughts and opinions are my own.
 Ready to create and curate new holiday traditions? One of my favorite childhood memories was running out of my room to reveal a brand-new bike with training wheels under the holiday tree. And, now, we can give that same gift to our child. When we were kids, we rode our bikes everywhere. I had hoped that this tradition would be something we can pass on to our son. The message of getting outside, putting electronics down, and enjoying some good ol' family fun.
Luckily, thanks to Huffy®, our son is getting outside more and living his best life.
As for us, we swore off bike assembly years ago. I've learned my lesson when I see "bicycle" and "some assembly required" used together. True story. A few years ago, a member of our family really wanted a new bike for her birthday and it fell on me to put it together. As a general rule, I'm pretty handy when it comes to putting things together so I didn't think anything of it when I agreed to it. It ended up being a frustrating experience that took more than just a few hours. The brakes had to be lined up just right. Seat wouldn't stay straight. There were even gear shifts involved. It was not fun. I vowed to never buy another bike that didn't come already assembled.
So imagine my apprehension when I found out that Huffy® would be sending us one of their new line of children's bicycles, the 16 " EZ Build™ Bike. Delivered. In a box. Some assembly required.
Whatever fears of spending an entire day assembling another bike were quickly assuaged. Huffy's exclusive "no-hassle build" can be assembled in minutes. I even tested that assertion. It was a snap, literally. It went from box to sidewalk in under a minute.
Even though the major components only needed to be snapped into place, the bike is incredibly sturdy thanks to its durable steel frame. These lines of budget-friendly bikes, which come in three sizes suited to proper age ranges, are designed for durability, comfort, and fun.
It's simple to adjust the bike as your child grows, no tools required. The quick release lever enables you to quickly change the seat height and when the time comes to take off the training wheels, well those are a snap to remove as well.
So don't let the phrase "some assembly required" deter you from giving the gift of fun this holiday season. EZ Build Bikes are now available at Walmart, both in-store and online. A new Huffy bike will make their eyes light up when they see it under the tree on Christmas morning.
Don't forget a helmet!
What's your favorite holiday gift? Do you have memories of bike riding on Christmas morning?
Fun Activities For Kids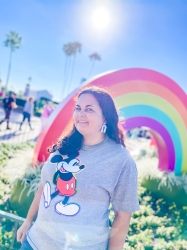 Latest posts by Krystal | Sunny Sweet Days
(see all)