10 Uses for Grapefruit Essential Oil
Grapefruit oil is an oil from the citrus family, which can be helpful in lifting your mood and brightening your day. Grapefruit oil has also been used for years to assist with weight loss, which is what many seem to identify it with. And while it is great for all of these uses, grapefruit oil has many other beneficial uses as well. Take a look below at 10 uses for grapefruit oil that you can try!
1. Curb cravings. The scent of grapefruit oil can help curb food cravings and achieve your weight loss goals. Try applying a few drops to the inside of the palms and inhale when you need a little help with appetite suppression.
2. Reduce the appearance of cellulite. While nothing can make cellulite disappear, grapefruit oil can help reduce the appearance. Massage it into the area to help stimulate the skin and smooth out the lumps and bumps.
3. Banish fatigue. Just the scent alone of grapefruit oil can help you feel more upbeat and find your energy. Apply a few drops to your chest and inhale to feel refreshed and renewed.
4. Reduce stress. If you are feeling overwhelmed with stress then try inhaling grapefruit oil. You can place it on your chest, add it to your bath, or add it to your body lotion and massage in.
5. Soothe headache symptoms. Massage a few drops of oil to the temples and rub in to help relieve headache symptoms. The scent will help you relax, release muscle tension, and help reduce inflammation that can be causing the headache.
6. Give your cleaners a boost. Add a few drops of grapefruit oil to your homemade cleaner recipes. It will make them smell great as well as cut through the grease and grime harder.
7. Soothe a sore throat. Mix a few drops of grapefruit oil with coconut oil. Gargle it to help soothe a sore throat and moisturize a dry one as well.
8. Reduce the effects of a long night. Did you party a little too hard? Rub some grapefruit oil onto your abdomen and relax.  It will help soothe your senses, head pain, stomach pains, and over all feelings of exhaustion.
9. Revitalize your workspace. Try diffusing grapefruit oil into your work space to help you feel energized and find clarity. The scent can really make a difference to your productivity!
10. Give your water a boost. Add a drop of grapefruit oil to your water to help soothe kidney and tummy troubles. It can also help feed your skin and give you an overall glow.
See how beneficial grapefruit oil can be? Give this essential oil a try yourself and see what a difference it can make to your health and spirit! It's my favorite way to add flavor to a glass of water (one drop goes a long way!), and the smell when I diffuse it is amazing!
Essential Oil Tips For Beginners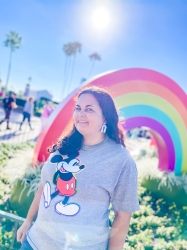 Latest posts by Krystal | Sunny Sweet Days
(see all)