5 Ways to Relax With Lavender Essential Oil
Lavender is one of those scents that symbolizes relaxation. From its soft purple hue in color to the gentle scent that wraps you up in a warm blanket on a cold winter's night. There are many ways to use Lavender from edible to medicinal, but here are 5 ways to relax with Lavender Essential Oil.
1. A Hot Lavender Bath
Add in 3-5 drops of Lavender Essential Oil directly to the hot water pouring out of the tub's faucet. If your muscles are especially sore, mix together 10 drops of Lavender into 2 cups of Epsom salt to create your own Lavender Bath Salts. Then add 1-2 cups of these fragrant, relaxing salts to your bathwater.
2. Relaxing and Calming Massage Oil
Start with an organic carrier oil like jojoba or sweet almond and add 10-12 drops of Lavender Essential Oil to 32 oz of carrier oil. Shake the mixture well and massage into your tired body. Better yet, have a someone give you a relaxing massage with your lavender massage oil!
3. Scented Candles
Candles can get very pricey, especially those made organically with essential oils. You can also make one in a pinch using candles you may already have on hand. Use a vanilla or unscented candle and add just a couple drops of Lavender Essential Oil into the melted wax. Instant relaxation!
4. Get Rid of That Headache and Relax!
Dab a couple drops onto your temple to help alleviate any headaches and to send you off to sleep after a long, hard day. If you have a persistent headache, breath deeply from the bottle. Then not only dab your temples, but with a little on your fingertips, gently massage your forehead.
5. Scent Your Sheets
Using an organic wool dryer ball, add 10-12 drops of Lavender Essential Oil to the outside. Let it dry just a little bit so it soaks up the oil and it doesn't end up on your sheets. Then toss the lavender wool dryer ball into the dryer with your bedsheets. When you snuggle down to sleep with your clean sheets, the calming scent of lavender will work its magic and send you off the dreamland.
Do you use lavender essential oil?
Learn more about my crafts + recipes that use essential oils.
Essential Oils to Try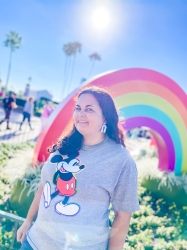 Latest posts by Krystal | Sunny Sweet Days
(see all)