It's almost time to start thinking about summer, and you need to take care of yourself! From skincare to a new beauty regime, it's important to create a routine that creates a happier and healthier you! One way that I've been doing that is with essential oils. I've been using them on my face, to clean my home without harsh chemicals, and even in the shower! These shower melts essentially diffuse the oils under the hot steam creating a relaxing and invigorating experience. If you use the Skoother to smooth your skin while enjoying the shower melts, it's like you have your own personal spa at home. Want to make these melts and learn more about the Skoother (and enter to win!)? Keep reading!

Supplies needed:
A miniature ice cube tray (or a regular one if you don't have one!)
2 tbsp of water
1 cup of corn starch
A spoon and a mixing bowl
5-7 drops of Peppermint Essential Oil
Red food coloring, optional*
Directions:
Place the corn starch and essential oil in a bowl and mix well.
You can now add in a few drops of the red food coloring if you wish. I actually used a neon pink food coloring. Continue to stir. You may not notice color at first. Continue through the steps to reveal a bright red hue!
Slowly add in the two tablespoons of water. Continue to mix as the colors disperse and you notice that clumps are forming. You should know that this amount of water is not enough so be sure to follow through the rest of the steps!
Add a few drops of water continuously while mixing well. When a thick paste has been created, transfer the mixture to the ice cube tray. Smooth the mixture flat in each ice cube section.
Freeze the contents until the mixture is set (usually about an hour!). You now can enjoy your peppermint essential oil shower melts.

To use your new shower melts, just place the melt on the floor of the shower and turn the hot water on! The water and steam will hit the shower melt, and it will break down to diffuse the minty aroma into the air. It's certainly refreshing!
Pro tip: If you didn't use too much water in the mixture, the melts do not have to stay frozen. You can place them in a jar and store them in a cool and dry place!
[amazon-related-products keywords="essential oils"]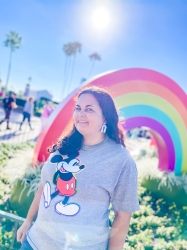 Latest posts by Krystal | Sunny Sweet Days
(see all)