10 Uses for Rose Essential Oil
Rose Essential Oil is one of the most expensive and coveted oils of the essential oil family.  Once you are experienced with essential oils, it may be one you wish to try out and reap the benefits of. It is a fragrant oil, and you will find that a little dab goes a long way. Because it is one of the pricier oils, you will want to use it in blends with other oils to make it last longer, or, just be conservative with it. Take a look below at 10 uses for rose oil that you can try. You might just find that rose oil is for you!

1. Ease stress and anxiety. Try diffusing rose oil into the room or inhale it from your palms to feel more relaxed and at peace. Try inhaling rose oil when meditating or after a long and stressful day.
2. Use it as an aphrodisiac.  The scent of rose oil has been a long known aphrodisiac! Massage a few drops over the pulse points or on the soles of the feet. It can help you to relax and feel more at ease as well as trigger aphrodisiac properties! Oh la la!
3. Achieve healthier hair. Add a drop of rose oil to your shampoo and wash as you normally would. Your hair and scalp will be clean and nourished, not to mention smelling great.
4. Fend off infections. Dilute the rose oil and apply to areas where you are trying to fend off infection. The oil will keep the area clean and speed up the healing process.
5. Soothe skin flare-ups. If you are experiencing minor skin rashes and flare-ups, apply a drop of rose oil to the area and massage in. It will keep the area clean as well as reduce inflammation and irritation.
6. Soften scars. While nothing will take scars away completely, rose oil will soften the scar and reduce the appearance.  Just apply a drop to the area and massage in.
7. Get glowing skin. Rose oil will work wonders as a tonic for your skin. Add a drop or two to your daily moisturizer and apply to your skin for glowing results.
8. Soften wrinkles. Just like rose oil can soften scars, it can do the same for wrinkles. Apply a drop to the areas where wrinkles are present and it will soften and smooth out the skin.
9. Soothe dry skin. Treat yourself to nourished skin when you add a few drops of rose oil to coconut oil and massage into your skin. Your skin will soak it up and smell great!
10. Soothe poison ivy. Add a few drops of rose oil to peppermint oil and apply to the affected area. The oil mixture will keep the rash clean and soothe any itching or irritation.
If the unique scent of rose oil isn't enough to intrigue you, give these 10 uses for rose oil a try. You might just find that it is an essential oil you can't live without!
Essential Oil Tips For Beginners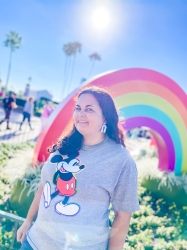 Latest posts by Krystal | Sunny Sweet Days
(see all)