How to Make a Simple Marble Photography Background
This shouldn't even be a tutorial, because it is SO easy. However, any time I share an Instagram photo… I get asked about my background. Is it my kitchen counter? Do I have beautiful marble floors? Or, perhaps, is it vinyl? No, no, and no. It's created with two items and cleverly cropped in editing.

A subtle backdrop looks stunning on Instagram and Pinterest, and I try to make sure none of my backgrounds are distracting. I always "tidy" up my photography area so that there is no clutter or anything that shouldn't be there before I shoot. And, I always have my foam board! Whether I use this marble piece or a blank white foam board, I typically stock up on these monthly at the local dollar store. It's my go to photography prop, and I don't even use my vinyl backgrounds anymore.

To get started, look for marble contact paper on Amazon. Here is the marble paper that I used. For under $10, you can re-create this! Just grab a white foam board, scissors, and a roll of this marble contact paper. It covers the foam board with about an inch on the top and bottom.

Strategic placement and proper cropping will give you a simple background that you can take with you anywhere! I usually photograph things outside on my patio, and this backdrop is easy to store and carry. I hated lugging around my vinyl backdrops, and they never looked very good in photographs either. You could always "tell" they were vinyl.

It's a five minute DIY that will boost your photography, and your Instagram will truly shine. Marble backgrounds are very popular right now on Instagram, so boost your photographs with original touches to match your personal style and brand. Try these Instagram photography tips for more ideas.
What are your favorite photography backgrounds? Try these tips to learn How to Make a Cheap DIY Photo Booth.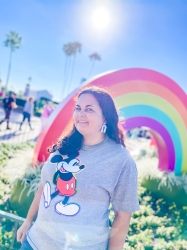 Latest posts by Krystal | Sunny Sweet Days
(see all)