Free Summer Activities For Toddlers
This year you can keep your little ones occupied with these great free summer activities for toddlers. Not only will you save your budget by using these free things to do with toddlers, you'll find yourself happy to get down and have fun with the kids on their level. So many fun free activities are easy to incorporate into your daily life. With toddlers this is even easier as they are typically easier to satisfy than their older siblings may be. And, no matter where you go, don't forget your favorite snacks! I've got a review of GoldfishⓇ below along with some other information to help you have the best summer yet!
Free Summer Activities For Toddlers
Sprinklers or kiddie pool. Whether you set up your sprinklers for them to play in, or you put up the simple kiddie pool you grabbed at the local dollar store your toddlers will love playing in the water. Younger kids can be slathered in sunscreen and spend hours in a kiddie pool splashing. Add in some fun flavored frozen juice or ice pops for them to snack on in the water and they will be even happier.

Finger paint. No better time than summer to break out the finger paints for an afternoon of creative play. Set your kids up at the picnic table outside or simply on the sidewalk. Being able to create their own artistic masterpieces is sure to give them hours of fun. Hose them off with the garden hose before bringing them back inside for a mess-free craft.
Sidewalk chalk. They love watching you and their older siblings write, so why not give them some simple sidewalk chalk and let them draw and write all over the driveway. You can talk to them about colors and shapes, or simply let them be artistic and free with what they choose to create.
Snack Break
I never realized how difficult it might be to get my toddler's favorite snacks items or beverages while on the road. Sometimes I'm surprised places don't even offer milk as an option! Now that I know better, we never leave home without a special road trip snack package! No more unnecessary stops at stores or roadside shops. Not only does this save us time, but it also saves us money. These six-ounce bags are perfect to fit inside a cooler or in your glovebox for easy snacking!
Put together puzzles. Toddlers love putting together simple puzzles, and summer months are perfect for this. Let them lay down on the floor with multiple puzzles within reach and watch them mix and match and learn to put the right pieces in the right places. His is a great tool to help their fine motor skills, all while working to keep them happy and busy.
Go to the park to play. Head out to the local park for a change of scenery. Check in with friends who also have toddlers to see if you can arrange a fun day out at the park for everyone to enjoy. Most public parks will have a simple area for younger kids to play. Make sure to watch them carefully, and don't hesitate to jump in and play with them.

Play with bubbles. A few drops of dishwashing liquid in a bowl of water makes an excellent bubble solution. All kids love playing with bubbles, and this is one free summer activity for toddlers that they will all enjoy. You can make giant bubbles with a hula hoop and a kiddie pool with this recipe: DIY Giant Bubbles.

Make your own play dough. We love to make fruity scented colorful play dough. It's kind of our go to rainy day activity! From mint to strawberry, I have a few recipes for you to try!

Play Dough Recipes:
Fruit picking. See if you have a local orchard or other fruit picking place. We have strawberries and blueberries in my area. It's a fun way to spend a morning.

This year you can include your younger kids in fun all summer long. These free summer activities for toddlers are simple, fun an sure to challenge your kids not only to use their imagination but to become more independent and coordinated every day.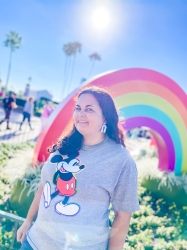 Latest posts by Krystal | Sunny Sweet Days
(see all)