I turn thirty in just a few days. I can't believe that my twenties are over, and I'll be looking at a new decade. I have to admit, I'm grateful for the "clean slate." I want to remember my thirties differently than my twenties, and I know that I want to get my act together. Whatever that means. I spent most of my twenties drinking anything available and not caring for taste or quality. I drank what was on sale, which was free at a ladies night, or what ended up leftover from a party. While I'm about to embark on what is going to be some of the best years of my life, I hope to upgrade my liquor repertoire. I saw an amazing article on Yahoo! Food about a cocktail bucket list, and I knew I needed to create my own.
While I ring in my thirtieth year, I will be "drinking around the world." This trip doesn't require a plane ticket since I'll be walking around EPCOT at Walt Disney World. But, it will remind me of the flavorful wines and unique craft beers that I have grown to love. No longer will I drink something "just because." My choices will be calculated and have a purpose. I enjoy a nice glass of wine, but I prefer a craft beer. Or, better yet, a cocktail with a view.

So, to ring in my thirties, here are thirty drinks that are on my "bucket list." Some of these include aspirations of travel or personal goals to achieve. It's not just an "I want to drink all of the things" list. It's more about celebrating and trying new things while dreaming of future travel destinations.
1. A Manhattan in Manhattan.
2. A (second) rum runner in Key West.

3. A hurricane on Bourbon Street.
4. A mint julep while wearing a floppy hat.

5. A cold can of beer at a swim-up bar.
6. A mai tai on the beach.

7. A Sam Adams out of Boston.
8. Stop by a speakeasy in 1920s attire.
9. Go wine tasting in Napa.
10. Try a margarita with extra salt in Mexico.
11. Find a tequila that I actually enjoy. This hasn't been possible in the past nine years. I will be surprised if it will happen.
12. Create a sangria recipe that gets published.
13. Make a trip to Philly to have a Yards beer.
14. Go to Denver and drink all the craft beer. Not really, but I do want to go to Denver.
15. Martinis at Fairmont Le Château Frontenac in Quebec City
16. Enjoy a white Russian in a bathrobe. If you get this, tell me in the comments below!

17. Find a caipirinha in Brazil (I'll settle for the Food and Wine Festival at EPCOT).
18. Infuse my own vodka. I've made bacon before, but I'd love to make pineapple.
19. Contribute a cocktail recipe for a major liquor brand.

20. Go to Oktoberfest. The real one.
21. Personalize a beer stein. Yes, I need an official stein. And, yes, I need my name on it.
22. Pacific Coast IPA in Portland
23. Host a Facebook Live from my kitchen. I'd love to share a few new cocktail recipes!
24. Make lollipops out of liquor. It's a thing, and I need to try it.
25. Try Pimms. Just what exactly is this and why is it all over my Instagram feed?
26. Have a Guinness in Ireland.
27. Make my own beer.
28. Host a brunch with a mimosa bar complete with champagne ice cubes.
29. Go to an ice bar. I've been wanting to go for years now!
30. Try cocktail popsicles with rum and Coke next time. These beer pops were amazing.
What's on your cocktail bucket list? What's the best drink you've ever had?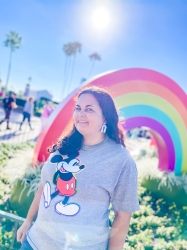 Latest posts by Krystal | Sunny Sweet Days
(see all)