6 Reasons Your Clothing is Unorganized
Is your closet a mess? Do your dresser drawers look like a tornado went through them? Keeping clothing organized can be a burden and feel like an endless battle. Luckily, you don't have to live that way! There are ways to come out from under the clothes and enjoy more organized space. Look below at six reasons your clothing is unorganized, and see if you can't pinpoint the reasons you just can't seem to get it together!
1. You have a catch-all chair. Ahhh the good old catch-all chair! It is the place clothing items go to rest when you just don't feel like hanging them up. These areas tend to be messy and out of control, and can simply be avoided by removing the chair. If you have a catch-all space, get RID of it. You will then be forced to hang items up instead.

2. You don't get rid of items you no longer wear. You should be going through your clothing and eliminating anything you haven't worn in 3 months. Chances are if you haven't worn it, you won't. Donate it, free up space, and move on. If 3 months makes you nervous, try removing anything you haven't worn in 6 months.

3. Dirty items aren't being taken down to the laundry. Remember that catch-all chair we talked about? Many times we simply aren't good about taking dirty items down to the laundry room. Make sure you have a sizeable hamper that you can stash dirty items in so you don't allow pieces to build up into piles.

4. You don't sort out items by season. Clear away clutter by sorting out items by season. Place out of season items in plastic totes and store them away until needed. This way they aren't taking up space or energy. You can then simply rotate out totes as the seasons change.
5. You don't count on staple items nearly enough. Staple items are great because they don't take up much room and can be worn in numerous ways. Some staple items include a great pair of denim, a white dress shirt, black flats, and a basic black dress. These items can be dressed up and dressed down, mixed and matched, making them the perfect closet essentials.
6. You treat your closet as negative space and not an enjoyable one. Many people are quick to close their closet doors and think of them as ugly spaces. Instead, make your closet pretty. Add a fun fresh coat of paint, hang a few pictures and make it an enjoyable space you like being in. This way, you are more likely to take care of it and treat it as a fun space to be in.
Are you ready to win the battle of the clothing? Consider these 6 reasons your clothing is unorganized, and see how easy it can be to eliminate the look of natural disaster and enjoy a tidy space instead.
Organizational Ideas to Try:
Need to clean out your closet? Try ThredUp! They will send you a bag for you to send to them. They can BUY your clothes or donate them. It's an amazing service to help you keep your closet organized with only the BEST clothes that you need!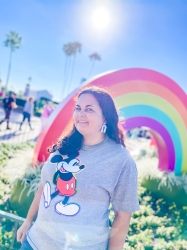 Latest posts by Krystal | Sunny Sweet Days
(see all)