Host a Beer Tasting Party
Beer, especially craft beers, are all the rage right now. I can't go a minute without seeing my Facebook feed full of delightful new brews with unique flavors such as jalapeno or chocolate peanut butter. Yes, there is in fact a chocolate peanut butter beer. There is also a banana bread beer (one of my favorites!), and even a bacon maple ale. Everything does taste better with bacon–even beer!

I was sent Brazi Bites for the purpose of this review, and the only thing that made sense to pair them with was cold brewskies. Have you heard of Brazi Bites? I hadn't either, but I was in for a pleasant surprise when these showed up on my doorstep. Brazi Bites Cheese Bread Snacks is Brazilian cheese bread (aka pão de queijo) which is wildly popular in South America.

I was intrigued by the idea that they were 100% natural and gluten free. I can get behind brands that offer full transparency of their ingredients. Not only were they transperant about what's inside each Brazi Bite, but their bags are literally see through.

You know when you buy frozen food and you can't see what it looks like? It's kind of hard for this party planner here to envision a table full of appetizers for a casual Sunday get-together or dinner party when you can't picture what each item looks like. Since Brazi Bites are new to me (and probably to you too!), it is so important that the customer can see just what each bite looks like. They are smaller than I had pictured which isn't a bad thing, I just didn't know what to expect.

For the purpose of this party, I baked up the Fire-Roasted jalapeños and the bacon flavors.

Twenty minutes in the oven and voila! Crisp, yet moist, cheesy bread bites. I worried that bread in the oven might bake unevenly or be too hard. I timed it perfectly, and each bite came out just right. Can you imagine the possibilities? I saw online someone use these as the "buns" on a slider, as a party appetizer, or as something to dip in various cheesy spreads. There are so many options!
Beer Tasting

Try a Cigar City Florida Cracker, which is a Belgian-style white ale, with the bacon and cheese bites.

Or, pair a the spicy jalapeño bites with a pale ale, like the Sweetwater 420.

Find Brazi Bites in the freezer section hopefully at a store near you! For me, in Florida, they are available at my local Whole Foods.
What's your favorite food to pair with beer?
[amazon-related-products keywords="beer tasting"]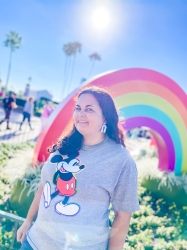 Latest posts by Krystal | Sunny Sweet Days
(see all)