5 Beauty Shortcuts Every Mom Needs to Know
Every mom knows that kids turn your life upside down in every possible way. Before your first bundle of joy came into this world you could've spent hours getting ready in the morning. Your lunches were warmer, your showers were longer and your hair was cleaner, but now that little angel you popped out has all your time and attention. Hey, that is perfectly normal, but it doesn't mean you should look like that witch from the Bugs Bunny cartoon. With a few clever hacks, you can still look your best even if your life seems completely chaotic at the time. In order to look presentable and professional, and still manage to get your kids ready for daycare, follow these tips.
Hide stains with oversized scarves
When you are a new mom, black is your go-to color. It never goes out of style, it is slimming (did someone mention baby weight?), and you can dress it up so easily. In addition, wet stains are not so visible on black shirts. Even with all those convenient nursing pads, you can end up with a milky stain if the pad moves even just a little bit. Therefore, whether you are going to work or grabbing a drink with friends, a black shirt combined with an oversized scarf can be a lifesaver. You will look fashionable and still be at ease even if there is an unexpected leaky boob incident.
Capsule wardrobe to the rescue
If you always buy a ton of things you don't really need just because they are too cute or on sale, your closet probably looks like a disaster and you need a ton of time to figure out what to wear in the morning. This can result in rather catastrophic outfits, so do yourself a favor and create a work capsule collection. This capsule should contain pieces that are always in style and can easily be mixed and matched. For example, the same pair of jeans combined with various shoes and tops can look completely different. You should also have a couple of go-to jewelry pieces. For instance, necklaces or earrings with gemstones look elegant and stylish and will easily elevate any outfit. If you don't have any pieces with gems, it is time to shop at Moon Magic.
Keratin treatments for amazing hair
We can all agree that frizz can make your hair look terrible, and all the bobby pins in the world can't help you. However, a keratin treatment can keep your hair straight for three months, and you can even air dry it and it will still look fabulous. This way you can drastically cut down on styling time.
Use a liquid highlighter for those dark circles
You are a mom now, which means your days of sleeping in (or sleeping at all) are behind you. Welcome to the world of dark circles and too many cups of coffee! Even when you feel so tired and your eyes are all droopy, you can boost your look with one simple trick. Instead of a concealer that will just get caught in the creases and make you look even worse, apply a layer of liquid highlighter under your eyes. It will instantly brighten that area and you will look as fresh as a daisy.
Dry shampoo for greasy hair
When you are a mom, washing your hair every three days is basically impossible. Who has time for that? Of course, washing your hair doesn't require a lot of your time, but when you add drying and styling to the equation, time adds up. When you are in a hurry and you want to look your best, a little dry shampoo at the roots can hide that grease and even add volume to your hair.
With these clever tricks, you will look amazing, even when you are in a rush.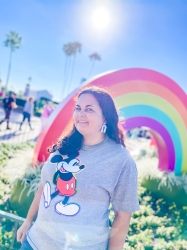 Latest posts by Krystal | Sunny Sweet Days
(see all)