Look-Good Tricks You Must Try This Holiday Season
The festive season this year is a bit different as you will probably have to limit guests and stay indoors. Budgets will be smaller as well, so you cannot imagine spending a fortune on the latest designer outfits and expensive makeup. Despite everything, you should still focus on looking your best to keep your spirits up during the festivities. Fortunately, you can get all the attention you deserve this season without burning a hole in your pocket. Here are some easy and affordable look-good tricks that you can try.
Recycle your wardrobe
While you may not be in a position to pamper yourself with holiday shopping this year, recycling what you have can do the trick. Check your wardrobe and see what you can do with the stuff you own. Unleash the creative genius within, and you can create the most incredible ensembles with some mix and match ideas. Play with the basics like your favorite LBD, a black pencil skirt, the trench coat, and a leather jacket, and you will have something cool to wear for every get-together. Use accessories to style up the look.
Win with makeup
Another easy trick to look and feel like a diva this Christmas is with the right kind of makeup. Check out the latest trends and try them out to create a dramatic look for the season. Pick a few bright shades in lip colors because they add a festive vibe to your ensemble. Highlight the best features with makeup. Even as you try something new, balance it with your personal style so that you don't end up looking out of place.
Invest in a healthy glow
Looking good is more about inner glow rather than outer shine. You may have the best outfit and makeup on, but only a healthy glow can make you look like a star. Go the extra mile with skin care this season, with all-natural products that nourish your skin from within. Pay attention to your beauty routine as well. Night-time cleansing becomes all the more important at this time of the year as you load up on makeup. Don't skimp with toning and moisturizing as well because your skin has to struggle with cold, harsh weather.
Curb indulgences
Surprisingly, curbing indulgences will also help you look good this holiday season. Even as you love the pies and puddings, steer clear of added sugar and preservatives because they can damage your skin and add pounds faster than you think. Ditch alcohol and settle for tonic water to stay hydrated and look radiant. Meditation and exercise clear out toxins and keep you fit and glowing. Don't forget to catch up on sleep because the late nights can show up as dark circles, which is the last thing you would want to wake up with.
If you want to steal the show this festive season, focus on your personal style and inner beauty. Get back to the basics, and you will surely be able to ace the look like always!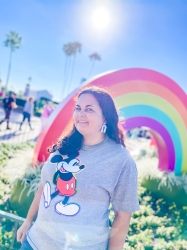 Latest posts by Krystal | Sunny Sweet Days
(see all)