Formal Dresses That Are Ideal For Winter Balls
Winter balls can be magical occasions—there's something incredibly special and magical about the icy decor, the gleaming lights, and the gorgeous place settings. Everyone is dressed up as we live in a movie, and the food is delectable. Of course, a winter ball invitation can quickly turn into a headache if we don't know what we should wear or even how to begin looking for the appropriate attire for a winter ball.
That's where this article comes in. We'll break down some styles of formal dress that are ideal for winter balls. Before we dive in, it's important to note that you should read the invitation carefully. Sometimes there are additional dress requirements that are specific to the event—certain occasions forbid the color black, and some flooring types are more suited to particular types of footwear.
What Is A Ball?
We're going to start here for any of you who received an invitation but don't really understand what you're walking into; a ball is a formal event that includes a banquet meal followed up by some dancing (often, ballroom dancing). Therefore, a winter ball is a ball that takes place in the winter and can sometimes be celebrating winter holidays or religious occasions.
Balls are formal affairs, and as such, tend to have specific requirements for the dress code. Back in the day, the rules were even stricter—expressly requiring only ball gowns. We've included ball gowns on the list below, but we've also looked at other formalwear appropriate for most occasions.
Longer Length Is Where Everyone Starts
Before you start exploring color and silhouettes, you're going to want to pay special attention to the length of your dress. Winter balls are formal events, and as such, shorter dresses are a big no-no. At the shortest, your dress can reach the middle of your calf. There are no exceptions. No, not even cocktail dresses.
Ballerina Dresses
No, we don't mean donning a tutu. Ballerina dresses are an excellent place to start looking for a winter ball dress. These dresses come to the middle of your calf or to just above your ankles and have a fun, flirty vibe while still meeting all the requirements of formal and black-tie dress code standards. If you're someone who likes the freedom to move around and sit comfortably or to dance, this might be the right choice for you. Ballerina dresses are not as restrictive as some of the other options and leave your legs unrestrained for hours of dancing fun.
Tea Dresses
Tea dresses fall right above the ankle in length, so they too meet our ballroom requirements. When you picture Donna Reid or any other 1950s icon, you're probably picturing a tea-length dress. These are also fairly unrestrictive and produce a slightly more mature silhouette than the ballerina dress. Tea dresses make an excellent choice for those who have the most darling pair of heels to show off. This is probably the shoe lover's favorite length as it draws the eye perfectly to whatever you've got on your feet.
Evening Gowns
Evening gown is a broad term that is used to refer to any dress that is floor length. Please note, this means floor-length with your shoes on—so you're going to have to take that into account when it comes to shopping or getting the dress fitted. Evening gowns come in a variety of silhouettes, including the mermaid gown, a-line, trumpet, or sheath shape. When making your selection of shapes, try to keep in mind what would be comfortable for dancing.
Ball Gowns
You knew this one was coming, right? A ball gown is more than just a dress you wear to a ball; it's a specific type of evening gown. The ball gown is epitomized with a blooming style full skirt and a bodice that is fitted. When we think of Belle dancing in that yellow dress at the end of Beauty and the Beast, we imagine a ball gown.
Play With Sleeves And Straps
If you're feeling a little restricted by the ballroom standards, note that it's more than acceptable to play around with sleeves, halters, or straps. Long sleeve formal dresses are an excellent option if you want to have something a little more unique. But feel free to experiment and figure out what type of straps or sleeves you like on your frame best. A word of caution, however—keep an eye out for plunging necklines. A little is okay, but a lot might be an issue depending on the host and reason for having the ball.
Don't Forget The Beauty Regime
Depending on how hectic the day is leading up to the ball (especially if you're planning on traveling a bit to get to the location), you might need to plan your hair, makeup, and jewelry ahead of time. Unfortunately, life isn't always so forthcoming with time for powdering our noses and primping. Here are some beauty shortcuts that might be able to help you out (particularly if you have little ones running around).
The Final Touch: Gloves
While not technically part of the dress, gloves can often be a requirement at the most formal of balls. The invitation you received should outline whether or not the event requires gloves. Typically, white gloves are the best choice as they match nearly every outfit, but grey or black can be acceptable depending on the color of your garb. When wearing gloves, remind yourself not to touch up your makeup with your fingers. Many of us do this instinctively, but you don't want to end up with little mascara smudges or lipstick smudges on your white fingertips.
The above information should help you find your way through all the different formal ball dress options. It might seem daunting at first, but once you narrow down the type of dress you want and begin ruling out certain colors, you'll find that the right dress for the evening will probably be begging for your attention. When shopping, make sure that the dress you choose fits well—a ball is far too formal of an occasion for you to be readjusting the chest of your dress or pulling your straps up. While we're at it, make sure that your undergarments aren't visible either.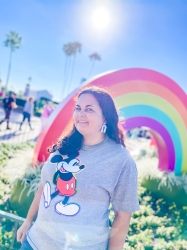 Latest posts by Krystal | Sunny Sweet Days
(see all)