Go On, Celebrate: Self Care Tips For Busy Moms
Thank you Wilson Creek Winery for sponsoring this post. Wilson Creek Winery encourages you to celebrate the little things in life with their line of sparkling wines.

Summer, summer, summertime… Are you making the most of your days (and nights)? We are oftentimes so busy that we forget to take a break and do what we truly want. I try to not be selfish with my time, but then I find myself overwhelmed since I have said yes to everyone but myself! I realized this last week when I had given so much of my time to others. Even though it was well-deserved and I was celebrating birthdays and holidays with my loved ones, I realized I had nothing left once the parties were over. I needed self-care stat, and I knew just the way to kick it off.
Go on, Celebrate: Self Care Tips For Busy Moms
Pour yourself a glass of wine, sister, you deserve it. Many self-care articles talk about face masks and bubble baths. I'm not that kind of girl. I want to be wined and dined. THAT is my idea of a good time. I recently discovered Wilson Creek Sparkling Wines, and I have a new favorite bubbly on my bar cart. There are 10 unique flavors for you to enjoy and can be found at your local store, online, and at the physical location in Temecula Valley Wine Country. They are a perfect beverage idea for an everyday celebration…you don't have to save it for a special occasion. YOU are the special occasion, so live a little.

The Almond sparkling wine is naturally fermented with a hint of almond flavoring so it is guaranteed to dazzle your tastebuds. It has a fresh feel that gives way to a crisp and refreshing finish. It's perfect for summertime self-care.

The peach bellini is perfect to drink any time as well, and it's going to be my new go-to for poolside parties. It's important to celebrate the little things whenever you can. A long day of work? Grab a glass!

My idea of self-care besides a glass of bubbles involves brain-dumping everything on my mind into a planner. I'm a bit of a paper planner person, and I love all things related to stationary. Nothing is more soothing to me than playing with a stack of stickers inside a journal. So, what is your favorite craft? Do you get giddy over markers like me or do you prefer to paint or draw? Find time to make your hobby a priority in your life. When the kids go to bed or when you wake up, dedicate some time to making your hobby a reality. This is self-care 101, and you won't regret it.
If you are new to paper planning, you can find an affordable notebook just about anywhere. Use colorful pens to write in vibrant ink (seriously, this helps me feel motivated when I'm writing in a bright blue or teal!), and write down your big dreamy goals. Unwinding with a glass of wine and a good calendar is seriously my favorite thing to do.

Self-Care Shopping List For Planners
A paper planner
A collection of rainbow pens
Sticky notes
Colorful stickers for decorating
Pastel colored highlighters
Daily to do list notepad
When you have everything you need to start planning, you will be able to track your self-care effortlessly.

Make time for you this year. You deserve it. Wilson Creek is not just for summertime sips. You can enjoy it year-round!
P.S. If you need me…I'll be relaxing near the sun with a sparkling glass of Wilson Creek and my new planner.
What is your favorite thing to do to unwind?
Wine Party Ideas
Pin these self-care tips: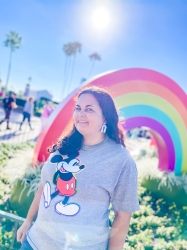 Latest posts by Krystal | Sunny Sweet Days
(see all)