Weeki Wachee Springs: Florida Travel
We received free tickets to enjoy Weeki Wachee Springs in exchange for a review. Thanks for the hospitality!

If you ever find yourself in Florida with a day to explore, please run to Weeki Wachee Springs!
This delightful Florida state park is probably one of the best things we have ever done in my area of Florida (it's north of the Tampa Bay area), and I can only hope to visit one day soon. The first time I went to Weeki Wachee I was 7 years old, and YES, I still remember that day! I remember the water slides (which haven't changed since), the cold water, and the long drive to get there. But, it is SO worth it! I wanted to share with you my thoughts on returning to Weeki Wachee after 25 years and how nothing has changed…and why that is SO important!
Weeki Wachee Springs
If you're reading this and planning your trip, the first thing I want you to know is that this park DOES reach capacity. Don't try to sleep in and head there and hope for the best. You must arrive early. Try to visit on a weekday if possible and avoid holidays. Obviously, this park has a large local population of people who want to enjoy their time here, and the admission cost is VERY budget-friendly for travelers. That said, summer is super busy! We went on a weekday and got there right at opening and enjoyed a quiet day. It was not as busy as I had imagined, but, we did plan ahead! Weeki Wachee has an active social media presence and text message service, so sign up! You wouldn't want to be locked out of the park on a hot day…so stay informed.
As for our day at Weeki Wachee, as I mentioned before, we did arrive at about 9 a.m. at the opening. We headed straight for the mermaids!
The first show of the day was soon, and we didn't want to miss it. We were able to sit in the front row and enjoy this historic show. It was everything I thought it would be. It seems as if the show has remained unchanged and is a classic Florida attraction. It was adorable, and I recommend trying to see one of the mermaid shows early in the day.
After the show, we wanted to hit the boat ride, but we missed it. The boat ride was kind of a challenge to get on during our trip since there were so many that were interested in riding the boat. If this is a priority for you too, I'd make sure to try earlier in the day. With the summer thunderstorms here in Florida (yes, it rains nearly every day in the afternoon), you wouldn't want to be rained out.
We were able to meet a real-life mermaid which made the trip more special. I can admire someone who gets to go to work every day and perform underwater!
Since we already saw the mermaids and missed the boat, we decided to maximize our time in the water park, Buccaneer Bay. Yes, this is included with your park admission!
Boasting several water slides and an area to rent a tube and float, this was perhaps one of the best summer days we have had. The water was icy cold (it is a spring, after all!), but it was beautiful and clear. We rented a locker and enjoyed our time here in the late morning-early afternoon. My son rode a pretty tall slide (watch the video!), his first water slide like that EVER!
We enjoyed the children's area for a few as well, and we had a cold drink from the bar.
When we needed lunch, we headed back out of the water park and had chicken tenders and fries. We then waited for the boat and didn't miss it this time! Our boat was at capacity, so again, if the boat is important I would recommend getting there early and trying for an earlier boat time.
The springs were so peaceful, and I hope to return and rent kayaks next time. I am not much a kayaker, but there is something about the clear and calm spring water that made me want to try. I love that I can see the bottom so I wouldn't be so fearful about it as compared to a river or even the Gulf waters.
If you're planning to go, don't forget all your typical beach day essentials. Sunscreen, a hat, a change of clothes, comfortable shoes. If you do both sides of the park (the mermaid show/boat ride AND the water park), you will probably want to change in between.
You can definitely do everything here in one day if you maximize your time. The park is small, but it felt large enough to stay busy in throughout the day. Honestly, we loved the springs. We could have stayed in the water longer, but we knew we had to get out to enjoy the boat ride and eat lunch.
So, if you're looking for another adventure on your next Florida road trip or are heading to the Tampa Bay area or Central Florida region soon, consider a trip to Weeki Wachee Springs. It's good, cheap, Florida fun.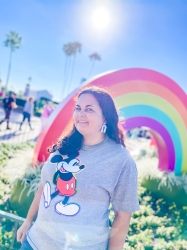 Latest posts by Krystal | Sunny Sweet Days
(see all)