6 Things You Should Know About Motorcycle Travel
What if you could be entirely free while on the road? What's it like to see every inch of a place, never missing a sight because your next flight won't let you travel where your heart wants you to? There are two words that will revolutionise your vacations: motorbike travelling! It's hard to imagine a better feeling than riding a motorbike over the wide countryside, listening to the roar of the engine, and feeling the cold breeze on your face. If you're not well-prepared for a long motorcycle trip, all the romantic and enticing features might turn into your worst nightmare. You can get started on your motorbike travels by following our beginner-friendly tips!
Purchase the right gear
You need the right accessories to get the most out of your bike. It's critical that you have the proper gear to ensure your safety on the road. A good-quality helmet might be the difference between life and death! Furthermore, don't forget to wear a biker's jacket and gloves to stay safe from the sun and prevent dehydration. Gloves will also help you shield from the wind. Ensure that you have a strong grip on the brakes by wearing motorcycle boots. Biker boots, gloves, and a travel bag round out the essentials.
Have an appropriate bike
Choosing the right motorbike is one of the most critical components of motorcycle travel. In addition, your bike must meet the requirements of your journey. In order to avoid straining your neck and back when riding for long distances, consider factors like mileage, inexpensive maintenance, and most significantly, a comfortable sitting posture. Make a list of what you need and look for a bike that perfectly fits your lifestyle. In other words, before embarking on your adventure, do extensive study to choose the best sort of bike to use. Sport bikes are a great option for those who'd like to be the fastest on the road.
Get a good map
When it comes to motorbike journeys, it's all about the journey, not the destination. It's more important how you get there than where you end up. In order to grasp the overall view and identify excellent routes, you should always lay out maps before or during a trip. Make sure to purchase maps that are specially made for bikers. There are maps that describe and detail the greatest motorcycle routes in certain states or areas so they can be quite a handy companion. You can also find ones that are made of waterproof and tear-resistant material, making them ideal for the outdoors.
Learn to pack
Consider the saddlebags you use while packing. The best way to keep your belongings safe from the elements is in hard-case saddlebags. Remember to take a few practice rides on your loaded bike if you're not accustomed to riding with "luggage" since this may have a considerable impact on the bike's handling and stability. Whenever possible, wear light clothes and keep your luggage to a minimum. You'll be able to enjoy a smoother, more balanced ride.
Maintaining hydration and nutrition is critical for a pleasurable and safe road journey. Ensure that you have a sturdy water bottle and some non-perishable food on hand for when you need to stop for a snack or a rest break. Classic choices include beef jerky and granola bars due to their low weight and high vitamin content.
Know the petrol stations
Before you go out on your trip, make a note of the closest gas stations along your chosen route. If you're travelling far from cities or in rural regions, you may find them few and far between. A solid rule of thumb is to cover all of your necessities in one stop; rest, eat and refuel. Whenever you find a gas station, you should fill your tank to the brim, especially if you're going on a long-distance trip!
Know where you'll rest
It's a good idea to plan ahead and think about where you'll sleep if you plan on riding a motorbike across the country. Camping or staying at a hotel are the two most common choices bikers make. For those who want to take their motorcycles over gorgeous terrain, motorcycle camping may be a lot of fun. Make sure to pack accordingly if you're planning a trip into the woods.
You should bear in mind that after a long day of riding, your body may enjoy a more comfortable sleep in a real bed. Investing in a hotel room may have a significant impact on how you feel the next day. Wherever you decide to spend the night, make sure your bike is parked in a safe location!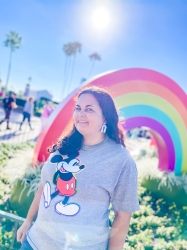 Latest posts by Krystal | Sunny Sweet Days
(see all)