Healthy + Easy to Make Packed Lunches
Healthy eating is being smart in making the right food choices for a balanced diet. It not only manages your weight, but it can make you have a positive outlook in life. Contrary to popular belief, healthy eating does not require you to give up your comfort food. You can still satisfy your cravings for high-calorie foods once in a while with the aid of physical activity to burn unwanted fats. Some people eat in lesser portions while some try a low-calorie alternative. Find out what is best for you and try to make it into a habit to help you kick start your healthy lifestyle.
Here are easy meals that will surely give your body the results that you want while you are on the go. These quick and uncomplicated packed lunch recipes can be good for your kids or yourself even if you are busy at work.
Vegetable Pizza
This recipe is a healthier replacement, and you will not even notice the difference because it will surely taste the same. In addition, you will be able to choose the main ingredient of the pizza so you will have it your way.
Ingredients
1 whole wheat pita pocket
1/2 cup of thinly sliced vegetables
½ cup low-sodium marinara sauce
½ cup mozzarella cheese
½ cup diced tomatoes
¼ cup sliced onions
Instructions
Spread the right amount of marinara sauce on the whole-wheat pita pocket. Make sure the sauce is spread evenly.
Sprinkle shredded mozzarella cheese on top of the marinara sauce.
Add your vegetables, tomatoes and onion.
Bake in the toaster for 10-15 minutes.
Make sure cheese is fully melted and the crust is brown.
Recommended Products
As an Amazon Associate and member of other affiliate programs, I earn from qualifying purchases.
Nutrition Information:
Yield:

4
Serving Size:

1
Amount Per Serving:
Calories:

141
Total Fat:

4g
Saturated Fat:

2g
Trans Fat:

0g
Unsaturated Fat:

2g
Cholesterol:

12mg
Sodium:

233mg
Carbohydrates:

20g
Fiber:

4g
Sugar:

5g
Protein:

7g
The nutritional information here is an estimate. While I try to provide accurate information via Nutritionix, this information is provided as a courtesy and there is no guarantee that it will be completely accurate. I am not a certified nutritionist and any information sunnysweetdays.com should only be used as a general guideline.
Homemade Potato Chips
Cook Time:
15 minutes
10 seconds
Total Time:
20 minutes
10 seconds
Instead of buying junk food, homemade chips are the best substitute for a light snack. It is definitely healthy, organic and preservative-free. If you are not fond of potatoes, you may use beet, carrots, and many others. With less than 250 calories, you and your family can enjoy this guilt-free snack.
Ingredients
Thinly sliced potatoes
2 tablespoons olive oil/ vegetable oil
Sea salt (to taste)
Instructions
Pre-heat the oven to 375.
Put the potatoes and olive oil in the oven.
Bake from 10-15 minutes until desired outcome is achieved.
Serve with your choice of healthy dip.
Eating is part of your daily life, but it does not mean that eating healthy would sacrifice your favorite food. The key is to find the best alternatives that would make it taste the same, but at the same time help you stay healthy. Remember to eat in moderation and in portions to help you discipline yourself. Have the motivation to keep going because you know what is best for you, your body and your health. Once you see improvements, it will inspire you to do better.
Recommended Products
As an Amazon Associate and member of other affiliate programs, I earn from qualifying purchases.
Do you like vegetables on your pizza? Try Brinware for back to school time!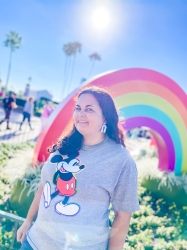 Latest posts by Krystal | Sunny Sweet Days
(see all)