Helpful Advice For Getting Around While On Vacation Abroad
Be Prepared When You Go Out To Explore The Great Big World Out There
There is something about going out for a vacation abroad, to a place you have never been to before, and exploring it. However, the feelings of looking forward to a thrilling adventure are also accompanied by the terrifying thoughts of planning everything to make sure that nothing goes wrong. Below are some helpful tips that can make sure your trip abroad is only exciting and you have no stress or confusion when you get there.
First Things First
This includes your passport and itinerary details. If your passport is due renewal in the next 6 months, it is best if you renew it right away before your expected departure. Some international flights require you to have certain validity on your passport before they let you travel. Keep digital copies of your passport and other identification cards. You will need your identification papers abroad more than you think. Keep it safe during your travels as well.
Decide Important Things Before Your Trip
Whether you are going to Thailand to explore the street culture or to UAE to explore the modern infrastructure, you must decide exactly where you need to go in the country you want to travel to. If you want to cover more than one city in UAE then you can get a long term car lease in Dubai so you can cover each of them at ease. Some cities in the UAE, especially the capital city Abu Dhabi and Dubai, will require more time. Driving in another country also requires getting an international driving license. This document proves you have a valid driver's license in your home country and is an additional form of identification. If the police stop you, for example, an IDP can help them confirm that you're a valid driver. In some countries, they may speak a foreign language, so if you are completely unknown to that, then you might have some trouble getting around. List down some basic phrases that can help you. 
Check Visa Requirements
When you are booking your trip, make sure that you check the visa requirements needed. A visa is a document issued by countries that permit you to enter their borders. For most European and American travelers, you do not need to get a visa in advance but can get it on arrival. If the country requires you to get a visa in advance, then you may not board the plane without it. You will end up losing your money and end up not going on your vacation, which can be quite a bummer.
Keep Money In The Foreign Currency Ready
People nowadays do not carry cash or travelers' cheques when they travel abroad. It has now become easy to access money anywhere in the world through the help of the internet or your debit/credit card. Set up a travel alert with your bank, so they know you are traveling to a new country and also inquire if any additional fees will be charged. You will avoid any costly foreign transaction fees when you withdraw from an ATM abroad. As a backup plan, you can carry some cash in dollars with you as well as take some local currency in advance so you can get around on the first day easily.
Book Everything In Advance
Look at the accommodation and book in advance. If you are going to a new country, it is always better to check into a standard hotel. Hostels, private guest houses, and other local options may not be exactly what you expect them to be and you might waste time moving from one place to another. Hotels are always equipped with all the basic amenities that you will need. However, if you are on a budget or want to meet other people easily, then you can look for a legit hostel. Booking your flights and staying in advance will also give you a chance to make use of the early bird offers and you might end up saving a vast amount of money.
Be Prepared For Setbacks
In a perfect world, you would like everything to go as per your plan. However, things may not go so smoothly. Give yourself enough time to fit in any setbacks that can take place. For example, if you have jet lag, then you will have to give yourself enough time to overcome it before you get out. If you have a schedule that has no space for any setback, you might end up being stressed by trying to finish everything that you have planned for.
To make the best of your vacation, make it as relaxing as possible and plan it in a way that you have the least amount of things to worry about.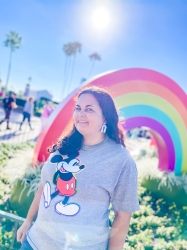 Latest posts by Krystal | Sunny Sweet Days
(see all)