Date Night Ideas: What You Need To Go See At The Ryman Theater
Date nights for most people usually mean going out for dinner and a movie. It can be fun but can get old and boring really quickly. Instead of it being interesting and spontaneous, date nights become a routine. How about you spice things up and go touring one of the oldest theatres in Nashville? It would be a night of learning about American history and entertainment, too.
The Ryman Theater is a great place to visit, especially if you're a lover of country music. There are usually shows lined up now and then. We implore you to take your lover on a special date as you both delve into 100+ years of entertainment history at the Ryman Theatre. Here are some sights you should go looking for.
The Museum Exhibit
The Ryman Auditorium goes as far back as 1892, where it was first opened as the Union Gospel Tabernacle serving as the platform for the evangelist Samuel Porter Jones. Between 1943 and 1974, it was the venue for the famous country music radio program "The Grand Ole Opry".
There are quite a several exhibits to look at in the theater. From memorabilia to artifacts alongside the five special exhibits (Roots Run Deep, Workin' on a Building, Turn It Up! Ryman's Rock Legacy, Showplace of the South, and Ryman Renaissance).
Live Performances
You also get to see performances from both emerging and international acts. Not just country music but bluegrass, hip-hop, and soul genres. Enjoy live music from the stage where past performers have sung from. Music legends such as Hank Williams, Elvis Presley, and Patsy Cline. With a seating capacity of over 2,300, you can book tickets for several events at the Ryman Auditorium. After a tour of the exhibits where you experience its century-old timeline of the theaters' evolution, you have a feel of what a show would look like in such a historic auditorium.
Hatch Show Print Gallery
The Hatch Show Print has always been intertwined with the Ryman. The Hatch has been the sole creators of the uniquely designed posters for almost all the events that have been held in Ryans. These Hatch prints are limited edition and sell quickly, rarely being reprinted.
As such, they become instant collector's items. What makes it more special is the fact each print being printed today still uses the same letterpress technique that the Hatch brothers used in 1879. Hand-carved blocks on which Hatch posters get formed are laid out on plates in reverse, being inked and passed through antique letterpress machines with hands.
Now, here's the fun part: most of the posters found in the Ryman archives have been autographed by artists who've performed in the Ryman and are displayed in the Print Gallery. Browse through several posters that have been autographed by famous stars and learn about television shows and movies that have been recorded here.
There are several things you can see apart from those listed above including the dressing rooms where many of your favorite artists waited before going on stage. You could also go home with a piece of Ryman by snapping a souvenir photo standing on the stage or recording your songs in the venue's studio.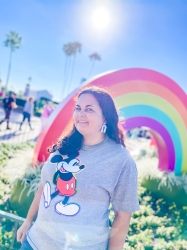 Latest posts by Krystal | Sunny Sweet Days
(see all)