9 Cool Shoulder Tattoos for Women That You Should Try Out
Whether you want a visible or hidden tattoo on your skin, the shoulder is the one place you can place your tattoo. You have now decided that you wish to ink your skin, yet you still can't decide which to put. There are more than thousands of tattoos you can think of, depending on what you love. Here are some ideas that can help you narrow down to the tattoo you would love to spend the rest of your life wearing.
Flower Tattoo
Most ladies love flowers because they are beautiful. Some flowers have special meaning to people, while others are symbolic. If you choose a flower, know your favorite flyover. You can choose a simple 2-dimensional flower or a 3-dimensional flower. Portrait tattoos appear natural because they are more detailed. They may even capture the color of the flower. However, before you do your 3-dimension tattoo, ensure it's what you want because they are very hard to modify in the future. Another cool flower tattoo includes small flowers having three to four petals.
Word Tattoo
Think about which word you would love on your shoulder. It could be your name or a name with a unique attachment to you—some tattoo their shoulders as reminders of people, places, or life experiences. Before you ink your shoulder with a word, take your time because there are hundreds of words you can use. Please choose the one with the most impact on your life because it becomes your partner.
Dandelion
The dandelion seed tattoo is superb, especially if drawn when the wind blows. The seeds will scatter on some parts of the shoulder, while the other part will appear on the lower part of the shoulder.
Ocean Tattoo
These tattoos range from whales swimming in the ocean, dolphins, or a water wave in the sea. Portrait tattoos are common for sea and ocean tattoos to capture the detail of what is happening. The ink must have blue ink to represent water. You will have to see an excellent 3-dimensional tattoo artist and ensure it's done right.
The Butterfly Tattoo
You can choose to ink a butterfly on your shoulder. The best thing about butterfly tattoos is that butterflies can land on multiple objects. With a butterfly, you can draw a butterfly on a flower, a fruit, or a rock, depending on where you imagine your butterfly is landing.
The Sky Tattoo
The sky has beautiful objects you can use for a tattoo. If you love the sky at night, you can tattoo a clear sky with a single or few stars. You can also choose to do a sun tattoo with one or two clouds beside it. Also, you can ink the moon on your shoulder. Depending on your favorite shape of the moon, you can choose from the four. The moon can also have some stars if you want it to capture the night.
Patterns
You can tattoo a pattern on your shoulder. For instance, you can draw a repeated tattoo of a hand, a leg, rings, or flowers. With repeating patterns, you choose what repeats itself in your life and is pretty special.
Circle Tattoo
You may choose a single line circle or a ring. Also, you can become more creative and make your circle with your favorite flower, hands holding each other, or dolphins swimming in a circle. Circle tattoos, in most cases tattoos in a circle, represent unity.
The Leaf Tattoo
It can be a small leaf tattoo or a large one, depending on your choice. There are different types of leaves, so you may want to choose the one you love most. If you love the fern plant, you can tattoo the leaf on your shoulder.
The tattoo you choose should express your deepest desires, happy moments, or memories you would love to cherish forever. It should be something you can't regret doing in the future.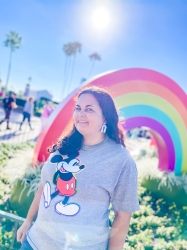 Latest posts by Krystal | Sunny Sweet Days
(see all)