Practical Ways To Update Your Kitchen And Give It A New Look
Are you bored of the way your kitchen looks? If your kitchen has dulled down and it brings you down as well, then it might be in need of a fresh new look. If you want to give it a makeover but the budget is tight, then don't worry, we've got you! There are many practical and pocket-friendly ways you can make your favorite space brighter and happier. You only need some effort, creativity, and patience, and you will get it your way. In this article, we will discuss how you can give your kitchen a new, trendy look by staying within your budget.
Paint the Cabinets
The kitchen cabinets can wear off over time. They can get rusty, untidy, and even dull. For your revamp project, start with something as simple as painting your kitchen cabinets to give them a new, fresh look! You can use a funky color to paint them in order to give them a brighter and funky vibe. If you're going for a more classy elegant look then you can use darker shades of greys or browns. Painting your cabinets can make them look completely new and fresh. If you do not want to go for a crafty solution like painting your cabinet, or if the cabinets are unhinged then you can get new cabinets installed. This way, you can get new cabinets for yourself that would enhance the look and feel of your kitchen.
Cover Your Fridge with Wallpaper
If your refrigerator has become old over time and does not go with the new look of your kitchen then you can try to cover your fridge with wallpaper. This is a wonderful opportunity to customize your fridge's appearance and turn it into the fridge that you've always wanted. You can put on a trendy wallpaper on your fridge or put on a more graceful wallpaper that would go with the elegant theme of your kitchen. Note that you will need to put the wallpaper on carefully to make it look like you upgraded your refrigerator! Something as simple as wallpaper can completely change the look of your fridge and save you hundreds of dollars.
Buy a New Statement Appliance
You can buy a new statement appliance for your kitchen to enhance its look and improve the ambiance. If you have the budget then you can buy a new fridge or an oven. However, You don't need to go all out while buying new appliances. There are significant small kitchen appliances that won't break the bank. How about that fancy toaster you've been eyeing for? You can get that shiny new appliance that will be a wonderful addition to your kitchen and can elevate its look. You won't even have to get your hands dirty yet you will enhance the look of your kitchen! It'll be a win-win situation.
Improve your Kitchen Storage
If you're running out of space because you have a lot of stuff that has nowhere to go or be stored then we have a few ideas for you. You can use your old stuff to your advantage and create more space. You can fix hooks or install shelves on your kitchen walls. Or, put the extra crockery and decorations on the shelves and improve your kitchen storage. If you have the budget, then you can invest in a storage chest that has a greater capacity to store the excess items.
Hang Artwork on the Walls
You can create a feature wall in your kitchen by hanging artwork. You can also hang photo frames on a wall and a spotlight on it. This is an easy way to practically improve the look of the space and is cost-effective too. Hanging paintings or your children's artworks on the wall are a great idea as well. This can enhance the aesthetic value of the wall and also add sentimental value to the space. With this, the wall will add a feeling of comfort, safety, and coziness that you will definitely adore.
There are many more ways that you can give your kitchen a completely new look. However, you may have to get your hands dirty. With these simple and fun techniques, you can put the unused stuff at home into good use. Don't set limits to your creativity. Give your kitchen the makeover of your dreams while staying within your budget. You can even get out of your comfort zone and try a trendy and funky look for it. If you don't want to get your hands dirty then you can install new cabinets in your kitchen and buy new kitchen appliances to make the space look fresh and new!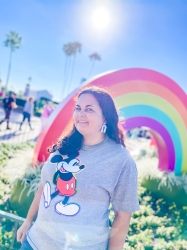 Latest posts by Krystal | Sunny Sweet Days
(see all)