What Are the Best Stainless Steel Cleaners for Gleaming Appliances?
If you're the proud owner of a stainless steel refrigerator, stove, dishwasher, or other appliance, then you're very familiar with how gorgeous they are. Stainless steel adds a level of class, utility, and beauty to a kitchen that's truly unlike any other. However, there's only one downside to this tough, classic material – the difficulty of keeping it clean and looking its best.
As lovely as stainless steel can be, it also has a terrible tendency to show every fingerprint, smear, and smudge it comes in contact with. Keeping it clean, gleaming, and looking its very best can feel like a thankless, never-ending nightmare for that reason. But the right cleaning products can really make a difference. Here's a closer look at the best of the best, starting with number one.
1. Rock Doctor Stainless Steel Cleaner and Protectant
There are plenty of products out there that will get your steel appliances clean if that's all you really want. But some of those options are too harsh for your beautiful polished steel and can cause its surface to lose some of its integrity over time. Rock Doctor Stainless Steel Cleaner & Protectant, on the other hand, isn't an all-purpose cleaner. Instead, it's specially formulated for steel to help protect your investment in your kitchen's look, feel, and functionality.
Think all-natural oils, gentle natural solvents, and the like – all perfectly blended to clean and protect your appliances to perfection. Of course, rock Doctor guards against future unsightly marks from fingerprints, grease smears, and smudges, as well. (It also works on chrome and aluminum!) In other words, it's the product to beat if you have a lot of stainless steel to maintain.
2. Weiman Stainless Steel Cleaning and Polishing Cloths
Sometimes it pays to keep a couple of convenient cleaning solutions on hand for those days you want to whip through your kitchen and spruce everything up in a jiffy. These microfiber polishing cloths from Weiman are accessible, user-friendly, and perfect for quick clean-up sessions. They also do double duty to complete two separate jobs with just one heavy-duty cloth.
One side features soft ribbing that gently lifts dirt, smudges, and oils from the surface of your appliances without scratching their flawless surfaces. Then, you can use the smoother side to buff your appliances back to a high-polished shine. And best of all, these cloths are large enough to handle even big jobs and are highly absorbent, as well as reusable.
3. CLR Stainless Steel Cleaner
If your least favorite thing about cleaning your kitchen appliances is the way so many household cleaners drip and run, especially when tackling vertical surfaces, CLR has a handy solution for you. Their take on a classic stainless steel cleaner comes in a stay-put foam formula that won't test your patience when it's time to get your steel stove or fridge back in spotless mint condition.
CLR stands for Calcium Lime Rust, but don't let that fool you into thinking they don't know anything about stainless steel. This is an excellent cleaner that keeps its promise not to drip and run all over the place while you're trying to clean. It stays put until the job is done and even makes working around fixtures like handles, knobs, and control panels a cinch.
4. Therapy Stainless Steel Cleaner and Polish
If you're always on the lookout for environmentally responsible products to add to your repertoire, then therapy is a brand name you should be aware of. It's entirely plant-based, so you don't have to choose between honoring your commitment to a sustainable or vegan lifestyle and enjoying a beautiful stainless steel kitchen that gleams like nobody's business.
Consumers who swear by therapy love it for how it delivers a thorough, safe cleaning experience without the need for harsh or harmful chemicals. It also smells fantastic, thanks to all-natural ingredients like lavender, coconut, and vanilla bean oils.
It pays to trust your stainless steel kitchen to the right cleaners. They'll not only protect your investment in your appliances, but they'll save you time and preserve your sanity, as well. So put together the cleaning kit of your dreams today, stop spending endless hours scrubbing, and start enjoying your beautiful kitchen to the fullest!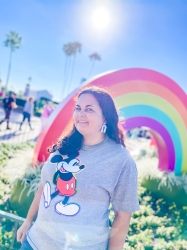 Latest posts by Krystal | Sunny Sweet Days
(see all)