Three Must Haves For Any New Mommy-To-Be
If you are a new mommy-to-be, congratulations! There is no better feeling than preparing for the arrival of your little one. To help you on your journey, we have put together three items to have on hand for when the baby arrives.
It can be extremely overwhelming trying to figure out what you need as the months progress towards the new arrival. This list is designed to make things easier. Here are the three items and why they are perfect for a family with a new baby on its way.
Swaddling wraps
Keeping your baby swaddled is excellent for keeping your baby calm and content as they sleep. There are many options when it comes to swaddling wraps. The best option is the one that works for you!
Consider sourcing 100% cotton muslin fabric wraps which are known for their breathability, especially for those summer months. Swaddle blankets with Velcro on them are an excellent choice for comfort for the baby and convenience for the parents. These work well for those who want a little more ease of use when it comes to wrapping your baby up into one tight package before going down for sleep time. This method requires you to keep an eye out every few hours since these blankets should only be used for nap time and not for keeping your baby still.
Air Purifier
One of your biggest concerns as a new parent is how you can make sure that your baby has healthy and safe sleeping conditions every night, especially during those first few months when they are most susceptible to germs and pollutants. Thanks to modern technology, there is no longer any reason for parents with babies or small children to worry about breathing problems because now everyone can access oxygen-rich air wherever they go! An air purifier can help reduce pollen, dust particles, germs, mold spores, and pet dander in the home. The best air purifiers are slim and compact machines that will assist in cleansing the air so that a fresh supply of breathable oxygen is always accessible and your baby will be more comfortable.
Nursing Pillows
A nursing pillow is a must-have for every new mom. They are designed to help provide support and make feedings more comfortable, particularly in the early days when your baby is learning how to drink correctly.
Nursing pillows come in all shapes and sizes. This pillow should be made from 100% cotton and have a removable, machine-washable slipcover, making it easier to clean after your baby spits up or spills milk on the cover during feedings. In addition, they fold in half, making it perfect for travel and sleepovers too!
The above options are only three items on a never-ending list for things possibly needed for a new baby. As overwhelming as it may seem right now or how prepared you think you are, there is probably still one or two, if not more, items that you forgot. Of course, it is entirely natural to be concerned about having everything in place before your new bundle of joy arrives, but maybe stop stressing so much and enjoy this time before the latest addition to the family arrives!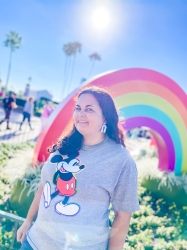 Latest posts by Krystal | Sunny Sweet Days
(see all)