Home Maintenance Tips: How to Get Your Home Ready For Summer
Is your home summer ready? The weather is getting warmer, and it's just around the corner, so you should probably hurry up! The summer months are your home's chance to shine, and there are plenty of things you can do to make sure your home is ready for the season ahead.
While summer is a great time to make some home improvements, you might not be able to do everything you want with the budget you have. The good news is that there are a lot of affordable upgrades you can make that will still allow you to have a fresh new home.
Want to get your home ready for summer? Take a look at some of the following suggestions for inspiration.
Give it a thorough clean
Prepping your home for the summer should start with a big clean. It can be satisfying to tackle the whole house and make sure that everything is sparkling. Whether you're going to be going on vacation or you're going to be at home for the summer, it helps to have a clean home regardless.
Downloading a summer chore checklist can give you an idea of everything you need to do to get your home summer-ready. From inspecting your guttering to taking care of pests, you'll be glad you got a head start on the cleaning by starting now.
Paint it
A fresh coat of paint can work wonders for your home. It can make it look new again, as though you've renovated or undergone a drastic change. As an easy way to give your home a bit of a facelift, painting your home can be quick and affordable. The bonus is that it will dry quicker in the summer months too, minimizing the disruption to you and your family.
Need some color inspiration? Check out some of
2019's biggest color trends
for the home.
Add in some seasonal colors
While painting your home will give it a fresher look, there are also ways you can make your home feel more seasonal by adding color. You could switch up your home accessories to add dashes of color, with cushions, throws, candles, etc. being a budget-friendly way of making a change.
Don't forget to stock up on items like 4th of July decor, these will also add some color and fun to your home and have it ready for summer. If you're planning any parties or having people over, make sure you give the grill a once-over and that you've got plenty of tableware and glassware. Try to minimize your use of single-use plastics like straws, cups, and plates and switch to either recyclable paper varieties or ones that can be washed and used again and again.
Get your backyard in great shape
Spending time soaking up the sun in the backyard is one of the best things about summer. But if your yard isn't looking its best right now, you'll want to think about making some changes. To get your backyard ready for summer, you'll want to get the lawn in good shape and maintain it regularly, jet wash your patio, fencing and other items in your garden that have gone a bit grey or mossy over the winter months.
Don't forget about summer mosquitos either. Look into mosquito control services from TruGreen mosquito treatment to find out what you can do to make sure that your backyard is summer BBQ ready! It is important to protect your friends and family and avoid pesky bugs.
Invest in new outdoor furniture
Some outdoor furniture can make a difference to your outdoor space, transforming it into another living area and being able to relax and entertain with ease. There is a great selection of garden furniture available now which means you can ditch your dated old patio furniture and invest in something new. In addition to investing in new outdoor furniture, you should consider buying a fire pit and some outdoor lighting to help you enjoy your backyard late into the evenings too.
Outdoor furniture is usually waterproof, but it can lose its sparkle quickly if you don't look after it. Invest in some weather-proof covers and remember to clean everything regularly to make sure your new furniture stays in great shape.
Upgrade your home's exterior
How is your home's curb appeal? If your home isn't looking great from the outside, then now is the perfect time to make some changes. You can start by cleaning the exterior of your home and making sure that all of the window frames and doors are freshly painted. You probably don't think about the outside of your home very much, but you'll be surprised at the difference some upgrades can make.
If you've got a bit of money to invest in your home's exterior, then think about adding some siding to give your home a modern, attractive look. Take a look at the Siding King to see the different examples of what you can do. While you're at it, you might want to think about renovating your guttering or roofing and make sure they're ready for the winter months.
Add in some summer fragrances
Want to make your home feel more like summer? Then add some summer fragrance. It can be wonderful to come home to some beautiful summer scents that will make your home feel more fresh and invigorating. There are different ways you can bring fresh summer fragrance into your home from flowers to diffusers. However, one of the easiest ways is to invest in some summer fragrance candles that will brighten up any room.
Summer is an exciting time. The warmer weather and the lighter days can put anyone in a good mood and make people feel that bit happier. When your home is summer-ready, you'll feel more able to get into the spirit of the season and make the most of the good weather.
It's also a good time of year to make any major home improvements or renovations you've been planning. The longer days make it easier to get work done, while the warmer weather will mean things dry out quicker, allowing you to enjoy minimal disruption. Whatever ambitions you have for your home this summer, get started by making it summer-ready and look forward to the months ahead.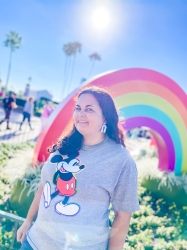 Latest posts by Krystal | Sunny Sweet Days
(see all)