The Best Tips For Selling Your Home With Ease
Deciding to sell your home is a huge step – congratulations! According to Jax Historic Realty, "Before anything else, it is a good idea to sit down and clarify your motivations and draw up a basic time frame for the selling process." This could not be more true. There are so many things that you need to do in order to sell your home with ease, but the first thing is selling a basic time frame for the selling process. Once you do this, these are your next steps:
Use A Reputable Real Estate Professional
After you clarify your motivations and draw up a basic time frame for the selling process, you need to find a reputable real estate professional that you trust. Erin E. King with Jax Historic Realty put together this seller's roadmap, which is extremely beneficial. It shows you exactly what you need to do and what the process will be like along the road to selling your home. "Erin King is a Best of Zillow® REALTOR® who specializes in Jacksonville's historic neighborhoods. Historic homes feel a bit like kindred spirits. For the past two decades, he has been passionate about telling their unique histories and restoring them to new life. Today, he helps other old home aficionados do the same."
As you can tell, Erin knows the ins and outs when it comes to selling your home and when you are about to make a huge, life altering decision such as this one, you need a professional such as Erin. Check out his about me page on his website if you'd like to learn more about him.
Remove Personal Pictures
Now, let's jump into the things you need to do when it comes to actually getting your home ready for the sale. Go through your home and take down pictures, paintings, or images hanging on walls ro set on counter tops. This includes large framed portraits, so now is not the time to be selective. You can always replace them with other pieces of art so that your walls do not look too bare. The reason for doing this is because your goal is to appeal to a broad range of buyers and they want to imagine themselves living in the home – not your family. Alternatively, some people suggest that having personal photos can be a good thing because it shows that you were happy in the home.
Have It Deep Cleaned
Did you know that the indoor air quality of most homes is typically worse than outdoor air quality? Isn't that crazy? Having your home deep cleaned will make it smell better (very important when it comes to selling a home) and look better (also very important). A thorough HEPA vacuuming will immediately reduce your exposure to particulates such as animal dander, allergens and SVOC's. Washing down all surfaces with a natural cleaner removes toxic residues, breaks down and neutralizes chemicals (VOCs) embedded in porous surfaces like drywall, and improves air quality in the room. For example, since VOCs incorporate into porous surfaces such as drywall, deep cleaning of the walls and ceilings is a good way to reduce chemicals incorporated inside them. Another very good reason a deep cleaning is important is because even if sources of SVOCs have been removed from the home, the SVOCs stick to surfaces such as the ceiling, walls, and floors and a deep cleaning removes them. Many people immediately can feel and sense that the air quality has improved and if there was a specific irritant to that person that was removed, the symptoms should no longer be present. For example, if someone moves into a home where the previous owner had cats and the new owner is allergic to cats, a deep cleaning will remove animal dander that has attached to the ceilings, walls, and surfaces.
Fix Any Unsightly Issues
Next step is to fix any unsightly issues around the house. Did your dog chew the back of a door? Maybe consider getting it replaced. Is your HVAC system leaking into the yard? Maybe consider having someone check it out before you have potential home buyers looking at your house. Think about all of the unsightly issues and try your best to fix them. Also, if you have any major issues, now may be the best time to improve those, as well, because who wants to buy a home with a broken hot water heater? Not me!
Be Patient
Last but not least, be patient and let your hard work show itself off. Sometimes, selling a home just takes a bit of time, but I promise you that it will eventually sell, especially if you have a great real estate agent on your team. You've got this!
Home Tips
Home Improvement Tips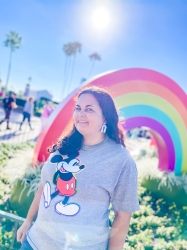 Latest posts by Krystal | Sunny Sweet Days
(see all)