The Benefits Of Baby Classes For New Parents
When you're a new parent, it can feel a little lonely and overwhelming. After all, you're responsible for a new life, you're probably sleep-deprived and you're no longer doing the daily things that you used to before you gave birth. Working, trips out and meeting up with friends. These all tend to take a back seat in those early months. 
If you're taking maternity leave, signing up for some baby classes is a great idea for a number of reasons.
It Get's You Out Of The House
When you're life changes so fundamentally, many new parents often spend most of their time at home. After all, you've spent months making it a safe and welcoming space for your new baby. Everything you need is there. You don't have to dress up or worry about what you look like. Let's face it, sometimes it can be difficult to find the time to take a shower in those early weeks. Even leaving the house with a new baby can seem like a military operation. But getting out there for infant swim lessons or just coffee is so beneficial for your mental and physical health. It can make you feel a little more like yourself again and is a chance to interact with other people.
You'll Find Your Tribe
Meeting with other new parents at baby classes is a great way to make new friends. If you're the first person in your friendship group to have kids, it can feel like you're a little out of touch. Talking and laughing with people who are going through the exact same thing as you can make you feel a lot better about your situation. You may also make long-lasting friendships with the people you meet there.
It May Help Combat Post-Partum Depression
It's very common for women to experience a range of emotions after birth, especially feelings of anxiety, depression
and mood swings. In many, these tend to dissipate after a few weeks as hormone levels return to normal, but for many, they can continue for longer and may require treatment. By getting outside for baby classes, feeling a little more like yourself and interacting with others, you can feel a little better. Or, it may be the trigger you need to realise that you might need some additional help. Talking to other new parents can put things into perspective and they may be able to spot that you're struggling and offer support.
It's Great For Baby Development
There is a range of baby classes out there now, from messy play to baby yoga. They are all designed to benefit your baby in different ways. For example, they may find that their fine motor skills are developing as well as social skills as they interact with others.
Your child will also get a headstart on those skills needed for preschool and gain their independence much faster as they become more confident.
It's A Chance To Spend Time Together
New parents often feel like their only job is to feed, change and clean up after a baby. It's never-ending and can really affect your mental health and how you bond with your child. Heading out to a baby class regularly means that you are devoting one on one time to your child, interacting and doing something fun, just the two of you. Strengthening your bond in this way can only be a good thing.
Which Types Of Class To Choose
Depending on where you live, there may be a limited choice of types of baby classes to attend. In larger areas and cities, you may be spoiled for choice. You don't have to commit long term, not every class will feel right. Most offer a free taster session, where you can come along and try it out. There are so many different types to choose from. Sensory baby classes are popular for younger babies. Baby yoga can often work well for those babies who are terrible sleepers or experience conditions such as colic or constipation. It might be easier to choose the closest one to your house as it means you're more likely to attend.
Takeaways
New parents and babies can benefit in so many ways from baby classes. From both a developmental and social perspective, they are a great way to spend quality time with your baby, while meeting new people. You might need to try a few to find the right one, but it will be worth it.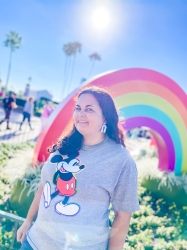 Latest posts by Krystal | Sunny Sweet Days
(see all)