How to Keep Your Pet Preoccupied and Happy While You're Busy
Pets are like your children. They need your proper time and attention almost all day. It is because they are so much attached to you and you love to give them all of your attention, affection, and care. But, wait. What if something comes up and you have to leave the house? Of course, in situations like these, you will be going alone.
Many working pet owners also have to be at the office and leave their pets at home. Well, each pet is different. If you have a pet cat, you can leave it in your house at ease as it doesn't require much human interaction. Nighttime cuddles and snuggles are enough for cats. But when it comes to dogs, they are more playful and energetic and always want adventures.
If you are thinking about your dog being at home alone and chewing any harmful thing, then you seriously need to figure something out before you go on with your work schedule. It is true that some dogs can be destructive to themselves and to your house, so you better figure something out that will keep your furry companion preoccupied, busy and happy until you return home.
Let's know some effective activities!
Smart Ways to Keep Your Pet Preoccupied and Happy When You Are Not Home
Your pet's happiness and well-being are more important to you than anything else. Don't let your pet be bored at home doing nothing at all.
Here are some smart and effective ways that will keep your furry friend happy and busy.
Let's get started!
1. Indulge Your Pet into Physical Activities
If you have energetic pets such as dogs, you might want to keep them engaged in physical activities. It is the best solution for your energetic pups. In this way, they will not be destructive towards your furniture and other stuff when you leave them alone in the house.
Make your pet busy in exercises and other playful activities before you go out and they won't be energizing enough to destroy things. If you want to do activity monitoring, which can help you to keep your buddy in top shape, you can utilize a dog tracker. It can track how dynamic and active they've been, and how many calories they burned. And of course, never forget to celebrate with him successes and compete with other dogs!
Treadmill and half an hour of the walking session will reduce the destructive behavior of your pet so don't miss out on it before you get busy.
2. Let Your Pet Watch Something Nice On TV
Making your pet habitual of watching something excited will always make him happy. Even if you are not around or busy somewhere, your pup will spend its time with excitement. You may turn up the Animal Planet channel so your pet becomes busy in the sounds of a cat meowing and a dog barking.
Watching TV is a stimulating thing that will put off your dog or any other pet from indulging into something dangerous. Besides that, it will kill their boredom.
3. Leave New and Exciting Toys around the House
Introducing new toys and exciting stuff to your pet is always going to be super helpful. It can put your pet off from being involved in other unnecessary things. The pet will become happily busy in playing with those stuff after getting bored from watching TV. Choose playful and perfect toys for your furry pet, so it will play around without getting distracted. Placing several new toys around will ease their boredom as well so you may leave your house with peace of mind.
4. Leave Tasty and Yummy Treats Around
If you haven't gotten toys for your pet yet then delicious treats will do the job. If you have a pet dog, then it is the best idea. Place treats in cool dry areas of your house where dogs can easily reach. Let them have at it when your pup feels bored. Keeping the treats in delightful packaging will excite them and keep them occupied for quite some time or till you get home.
5. Make Your Pet a Busy and Exciting Basket
Your furry companions, especially pups love to do adventurous things. You may make a busy and engaging basket for them before leaving home. Pile up a piece of their favorite food with aluminum foil, they will explore it and unwrap it until a delicious treat is out. Keep all of them in your pet's favorite basket and it will love to go through the process of exploring and devouring.
6. Look for a Dog Walker
Well, if your dog still feels sad after trying out all of the above-mentioned tricks, then it is time you provide your dog a dog walker. They will take care of your dog when you won't be around.
That's it, folks. Take care of your furry companion with the best you can, even when you are out, by following the above smart ways.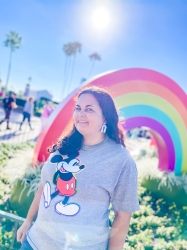 Latest posts by Krystal | Sunny Sweet Days
(see all)