Super-Easy Ways To Start Eating Healthier
Whether you're looking to lose a few pounds, inspire better eating habits in your children, or simply do more to care for your personal health and wellbeing, it doesn't take a lot of effort to start eating healthier.
So, if you are currently tempted by foods that aren't good for you, and if your pantry is piled high with tasty but unhealthy treats, here are some tips that we hope you will find useful.
#1: Switch to healthier alternatives of your favorite junk foods
You know junk food is bad for you, of course, but if your willpower is weak when it comes to avoiding them, consider the tasty alternatives. You could make your own pizzas using healthy ingredients, instead of buying the unhealthier options from your local takeaway. You could replace potato chips with kale chips, as they contain significantly less fat and have more nutritional value. And instead of a bowl of sugar-infused ice cream after your evening meal, learn how to make your own using healthy ice cream recipes or consider eating a low-fat yogurt instead.
#2: Make better snacking choices
Hey, if your pantry is overloaded with snack items that are bad for you, then you aren't doing yourself any favors. If you remove temptation out of the way and replace them with snack foods that are good for you, then you will be doing much to improve your chances of good health. Check out our linked article for a few good ideas, and the next time you're at the supermarket, forego those aisles that contain snack foods that aren't particularly good for you and put the healthier options in your shopping basket.
#3: Grow your own food
If you have a garden or space on your window ledges, why not start to grow your own food? You could plant fruit trees outside, create vegetable patches in your garden, or grow microgreens indoors. You would then have less need to visit the supermarket (where you might make unhealthy choices), and you would have fresh ingredients to use for your home-cooked meals. There are some excellent ideas for planting a successful vegetable garden at purple flower, and there are plenty of other helpful articles on how to grow your own food across the internet, so commit to research.
#4: Bring your own lunch to work
Sure, you could nip out on your lunch break and buy something from the local store, but you might be tempted by a fattening sandwich or a sugary bun. Instead, create your own lunch at home, perhaps the night before you go to work, so you don't decide against the option if you're tired the next day. Check out these tasty and healthy work lunch ideas and role model good eating habits to your colleagues!
#5: Create a meal plan
If you can create a meal plan for the week, you can make better choices at the supermarket, and have less need to get a takeaway when you discover your cupboards have become bare. These meal-planning templates are fully-customizable and easy to use, so pick one that you like and then start to use it on a weekly basis.
We all need to live a healthier lifestyle, not only for our own needs but to inspire the people around us too. So, consider the suggestions we have given you here and experience the benefits that a healthy diet can afford you. 
Easy Healthy Living Tips to Try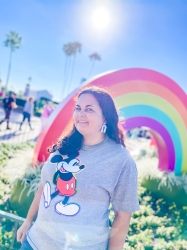 Latest posts by Krystal | Sunny Sweet Days
(see all)