Strawberry Wine Slush | The Best Strawberry Wine Brands
Welcome, friends! 🍓🍷 Today, we'll explore the fun and energetic world of strawberry wine. From cocktails to slushies, we'll learn how to make the most of this delicious drink. I've got a refreshing summer cocktail that uses strawberry wine (a delicious frozen wine slush!) So, let's dive in and start sipping! 😋
The Best Strawberry Wine Brands
Strawberry wine has been capturing hearts and taste buds for centuries. A delightful blend of sweetness and fruitiness, it's no wonder why people love it so much. And with its versatility, there's almost no limit to what you can do with it. Whether it's a classy cocktail or a fun slushy, the possibilities are endless.
But it's not just about the taste. Strawberry wine has some surprising health benefits as well. Rich in vitamins and antioxidants, it's a drink that you can enjoy guilt-free. So raise a glass to the power of strawberry wine, and let's toast to health, happiness, and fun! 🥂
Finally, when choosing the right strawberry wine for your needs, it's important to consider the quality and flavor. Whether you prefer a sweeter or more tart taste, there's a wine out there for you. And with proper storage, you can enjoy your favorite strawberry wine for months to come. So, let's learn more about this fantastic beverage and see how it can become a staple in your kitchen and life.
Definition of Strawberry Wine
Strawberry wine is an alcoholic beverage made from fermented strawberries. Unlike grape wines, it has a distinct fruity flavor that can be sweet or tart, depending on the strawberries used and the fermentation process. It's a popular choice for those looking for a unique and refreshing drink.
The process for making strawberry wine is like that of other fruit wines. Strawberries are crushed and combined with sugar, yeast, and water, then left to ferment for several weeks. Afterward, the liquid is clarified, aged, and bottled, resulting in a delicious and versatile drink that's perfect for any occasion.
Strawberry wine can be enjoyed on its own or used as a base for a variety of cocktails and slushies. Its vibrant red color adds a touch of elegance to any drink, making it a popular choice for parties and special events. So, next time you're looking for a fun and fruity beverage, consider reaching for a bottle of strawberry wine.
Health Benefits of Strawberry Wine
Rich in Antioxidants: Strawberries are an excellent source of antioxidants, which help protect your cells from damage and reduce the risk of chronic diseases. When you sip on strawberry wine, you're also consuming these powerful compounds. 🍷➕🍓=💪
Good for the Heart: Studies have shown that moderate wine consumption can help reduce the risk of heart disease. Strawberry wine, with its fruity flavors and natural sweetness, is a delicious way to enjoy these potential benefits.
Vitamin C Boost: We often associate vitamin C with citrus fruits, but strawberries are also a great source. Drinking strawberry wine can contribute to your daily vitamin C intake, supporting a healthy immune system. 🍓💊
Popular Cocktails Featuring Strawberry Wine
Strawberry Wine Spritzer
A refreshing mix of strawberry wine, club soda, and ice, this spritzer is perfect for a hot summer day. Add a slice of lime for an extra zesty twist.
Transform your traditional sangria into a fruity delight by combining strawberry wine with fresh strawberries, orange slices, lemon slices, and a dash of brandy. Let it chill for a few hours, then add some sparkling water before serving.
Strawberry Wine Mimosa
Switch up your brunch game by replacing the orange juice in a mimosa with strawberry wine. Pour the wine into a champagne flute, then top it off with your favorite bubbly.
Classy Slushies Featuring Strawberry Wine
Nothing beats a frozen treat on a hot day. And when it comes to strawberry wine slushies, there's no shortage of fun and inventive ways to enjoy this frosty beverage.
Classic Strawberry Wine Slushy: Blend frozen strawberries, strawberry wine, and ice until smooth. Pour into a glass and enjoy the refreshing flavors.
To make this class recipe, you need a bottle of strawberry wine, a cup of strawberries, and two to three cups of ice cubes.
Get ready to blend it up! Pour the wine into the blender and toss in the strawberries. Fill the blender with 2 to 3 cups of ice cubes. Blend on frozen drink mode.
Pour into wine glasses and garnish with fresh strawberries. Cheers!
Strawberry Wine Slush
Blend up a strawberry wine slushie with fresh berries.
Ingredients
750ml Bottle Strawberry Wine 
1 Cup Strawberries 
2-3 Cups Ice Cubes
Instructions
Pour the wine into the blender.
Toss in the strawberries.
Fill with 2-3 cups of ice cubes.
Blend on frozen drink mode.
Pour into wine glasses.
Garnish with a strawberry.
Nutrition Information:
Yield:

3
Serving Size:

1
Amount Per Serving:
Calories:

118
Total Fat:

1g
Saturated Fat:

0g
Trans Fat:

0g
Unsaturated Fat:

0g
Cholesterol:

0mg
Sodium:

21mg
Carbohydrates:

20g
Fiber:

5g
Sugar:

12g
Protein:

2g
The nutritional information here is an estimate. While I try to provide accurate information via Nutritionix, this information is provided as a courtesy and there is no guarantee that it will be completely accurate. I am not a certified nutritionist and any information sunnysweetdays.com should only be used as a general guideline.
Strawberry Wine Slushie Variations
Strawberry Wine Lemonade Slushy: Combine frozen lemonade concentrate, strawberry wine, and ice in a blender. Blend until smooth, then pour into a glass for a tangy twist on the classic slushy.
Strawberry Wine Margarita Slushy: Mix tequila, triple sec, lime juice, strawberry wine, and ice in a blender. Blend until smooth and pour into a salt-rimmed glass for a fruity take on the classic margarita.
Kitchen Creations with Strawberry Wine
Strawberry Wine Reduction Sauce: A versatile sauce that pairs well with meat, poultry, or fish. Simply simmer the wine with some sugar, spices, and cornstarch until it thickens.
Strawberry Wine Poached Pears: Poach pears in a mixture of strawberry wine, sugar, and spices for a sophisticated dessert your guests will love.
Strawberry Wine Glazed Chicken: Baste your chicken in a mixture of strawberry wine, honey, and spices as it roasts for a deliciously fruity main course.
Tips for Choosing the Right Strawberry Wine
When selecting a strawberry wine, it's essential to consider the following factors: sweetness, acidity, and alcohol content. A wine with a good balance of these elements will provide the best flavor and versatility for your needs.
Keep in mind that the quality of the strawberries used in the wine-making process will affect the taste. Look for wines made from fresh, ripe strawberries for the best results.
Tips for Storing Strawberry Wine
Temperature: Store your strawberry wine in a cool, dark place, ideally between 45 and 65 degrees Fahrenheit. Extreme temperatures can damage the wine and affect its flavor.
Light: Exposure to light can cause the wine to age prematurely. Keep your strawberry wine in a dark cabinet or wine cellar.
Humidity: High humidity can cause mold to form on the cork, while low humidity can dry it out, allowing air to enter the bottle. Aim for a relative humidity of around 70% for optimal storage conditions.
Important Things to Know about Fruit and Red Wine:
The best strawberry wines will vary depending on the wine that you like, the fresh berries that they use, the different flavors of each variety, and whether you like delightfully sweet wine or even a strawberry wine blend. Some of these wines might have an easy-to-open screw cap or offer a rich strawberry aroma. Some country wines, fruit wine, white wine, or even white zinfandel, could be options as you try to find the best strawberry wine brands. The bright flavors of wild berries really help when I'm trying to pick a wine to enjoy. I've actually used Arbor Mist Mango Strawberry Moscato before in cocktails (it didn't really have a wine taste since it was an ingredient in fruit cocktails like my sangria!). 
Don't forget to have a wine opener when you're planning on mixing up your favorite strawberry flavors. If you're a true wine lover, try something less sweet, like a pinot noir. Since I live in Florida, we have access to local fresh strawberries seasonally. This means we have outstanding local wine right here in the United States! Keel & Curley is one local winery that brews up the best wine with red fruits! They have so many fresh fruits in their varieties, so definitely check them out if you can! 
Strawberry wine is not only a fun and energetic addition to your drinks repertoire, but it also offers a variety of health benefits. Its versatility makes it perfect for cocktails, slushies, and even cooking. So, expand your horizons and embrace the power of strawberry wine in your life! Cheers! 🍷🍓💃
Love wine drinks?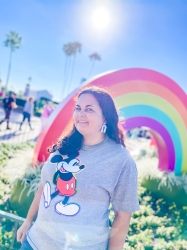 Latest posts by Krystal | Sunny Sweet Days
(see all)