Starting A Travel Blog 101
The life of a travel blogger looks particularly enticing. Landing week after week in stunning locations, staying in both luxury and budget accommodation, and the best bit is earning enough to keep that going. The rise of the digital nomad has meant that as more platform pop up for freelancers, more work is available on the go.
What is not to love about seeing Instagram after Instagram of stunning, crisp blue oceans, white villas and balconies and – getting paid to travel the world?
It is worth adding, upfront, that blogging isn't as easy as it looks and travel blogging has more pressure than some other blogs. There is a lot of work that has to happen before a single photo or blog post hits your screen. Of course, most people are simply unaware of that. But that is part of the job, to look glamorous and show other people the world.
But maybe it is time for you to start. To start to branch out and see the world of possibilities. No one can give you the perfect guide to being a travel blogger, but you can get the right tips and get to work nonetheless.
So, starting a travel blog 101 – let's tuck in.
Blog
You already know that you want to start a travel blog. Great. Now you need to start laying those foundations. You'll need a cool name. One that people associate with travel because on face value a name could be anything. Are you looking to make money and connect with travel brands and country reps? Or just for a hobby? Either way, you are going to need the following:
Domain name – short and snappy
WordPress – not everyone uses WordPress, but it is easy, has a massive amount of free plugins and themes and can be done in seconds.
The first step is to make sure that you find a reliable hosting service. You will then want to find the right theme. Spend some time playing around on the blog until you find a layout that you like. Think about ease of navigation too. It might be helpful to think in 'buckets.' So European, Asia, Africa, USA – or break it into types of trips – Safari, Skiing, Hiking. Think long term, what is it you want to write about and where do you want to travel?
You
Who are you online? One of the first pages you are going to create is an About page. This is where people will learn about who you are, what you do, and why you do it. This information should translate across to your other social media too. Instagram, Twitter, and your Facebook page should all marry up.

Social Media
As soon as you have the blog name you want, you should check that the name is available on all of the social media platforms you want to use. Typically Instagram works perfectly for your images – of which you will want to share many. Twitter is great for sharing short, witty tweets and links to your posts – plus taking part in hashtags that are in your interest. Facebook is a great in-between. Ideal for short posts with images. Keep your user name, cover images, and information the same across all of them. Pinterest can pull loads of traffic to your website, so if you get the opportunity to set one up, then do so. Many people outsource Pinterest to a freelancer because once they work their magic, the traffic can be very healthy.
Writing
Your first post is always going to be the hardest. Having stage fright and wondering if what you have written is good enough is normal. But from your first post to your last, you will improve so much it might not even seem like the same writer.
Your blog posts as a travel writer shouldn't be talking just about sun, sea, and sand. They need to be useful to your readers. If they come to your blog, they are looking for ideas and inspiration for locations that they might like to go to. Always make a note of things to do and things to avoid. Talk about the food places, the prices, the humidity.
Talk about your upcoming trips, other plans you have and ask them questions too. Use images of what you are talking about to give people even more of an idea. You will need to experiment with different kinds of posts also. Some people love the idea of adding maps and others like to include lists. Play around.
No Plans
If you only travel for a few weeks a year, it is going to be harder to keep up a travel blog. But not impossible. In fact, you have a lot that you can still talk about. You can:
Make wishlist posts of locations you want to stay at
Top Ten places that you have eaten
Your favorite luggage and cabin bag
Local city guides
Money
If part of the reason you are blogging is to make money to blog and travel more then you are probably going to really make the most of marketing your blog. Companies are happy to pay to either post content on your site or have you write something that matches their current campaign. The larger the audience to more likely you are to land sizeable contracts. You should focus on money in the early days, but there is no harm in looking for a list of places that pay for blog posts. Affiliate programs are often great for travel bloggers because travel gear recommendations are pretty great content-wise. Booking.com also has affiliate programs, so a few of the 'top ten' hotels in X city posts are a good idea. 
You can also use Amazon to make money online.
Pitching
When you have decided on somewhere, you want to go and have booked tickets look at the local attractions and travel options. Search for companies that will work with the content that you are going to produce and reach out to them. It is better to craft an excellent pitch for each company rather than use a template. Let them know why you are approaching them, what you can do, your stats and let them know you are already in the area.
Oversaturated?
The thing with the blogosphere is it can feel like there are just too many and you can't get seen. Well, you can't oversaturate the internet it is just too big. Great for you is that many people start a blog and then ditch it, so just keep going, and within a year you can be pretty successful. It takes dedication to make a living from blogging, so start if you have the stomach to keep it going when you are only making 0.01 cent on affiliate marketing and only 7 views.
Kit
You are going to need a laptop and a reasonable camera. The laptop is pretty essential for the times that you are away and need to stick to some deadlines that you have, work outside of your blog and of course, the blog itself. As for the camera, try not to worry too much because the top of the range ones can be costly. Think a mid range DSLR.
SEO
When you are drafting up your blog posts, you should start using google keywords to see what people are looking for in that area. It will give you the edge when you are producing the post, and you are more likely to appear higher in the searches. And, for SEO, you can get a plugin called Yoast to help you while you write, but you should read up on how to make your SEO pop on your website. This will make a big difference in your organic traffic.
Make Money Online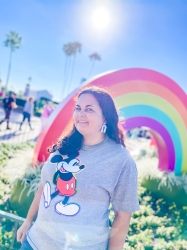 Latest posts by Krystal | Sunny Sweet Days
(see all)