A Carnival Amusements Guide: Pay Attention to These 6 Things
Carnivals and amusement parks are two of the most entertaining activities to do at any age. Whether you're going with a group of friends or your family, there are rides that suit all ages and accommodate all different levels of queasiness, so there's no doubt you'll find something you love and are comfortable with. You can find plenty of staple foods at carnivals from hot dogs, tacos, and burgers to funnel cakes, ice cream, and churros. There are also numerous shops that sell all kinds of themed merchandise and souvenirs that you can buy to remember that beautiful day. There are some safety measures you need to consider when going to carnivals and amusement parks to ensure you have the best experience possible. Here are a few guidelines you should pay attention to in a carnival amusement park.
Water and Sunscreen
If you're visiting in the summer, you must remember to stay hydrated all day. You'll most likely be exposed to the sun for long periods, so ensure you apply sunscreen every two hours. Try to stay away from direct sun exposure from noon till 3 or 4 in the afternoon. Don't be fooled by your lack of thirst if you're drinking soda and smoothies or eating ice cream all day. You still have to make up for the water lost from your body while walking around a large park on a hot day.
Walking Safely in Crowds
Try to move slowly in crowds and leave a space between you and the people in front of you who may be with kids or pushing a stroller. To keep your family safe at carnivals, be aware of where your kids are at all times as they probably get too excited and want to run around the park. Accidents are bound to happen in crowds, especially when people don't watch where they're going. There's a lot happening in amusement parks and sometimes you become distracted while walking and that's how trips and falls occur.
Carnival Games Safety Measures
You need to be aware of the safety measures required for each ride. While some carnival rides are age-appropriate, others are not suitable for children, people with heart conditions or high blood pressure, and pregnant women. You can visit website pages for more information on different carnival games for all ages. Many rides also have height and weight restrictions, so don't ignore these safety measures as they were implemented for a reason.
Riding Protocols
When you're about to get on a ride, be patient with the people coming off. Give them time as they collect themselves after a thrilling ride. It's better to follow the rules and wait for the conductor's signal to get in or out of the rides. You must stay properly seated during your ride. Whether it's a slow-paced or an intense ride, keep your hands and head inside your seat or grab the safety handles. If your feet are dangling in the air, don't tense them up or kick them in any direction. If you have long hair, make sure you tie it properly before going on a ride to avoid any accidents.
Seek Assistance
If you witness any issue at the carnival or amusement park, don't be shy to seek assistance from a ride conductor or a security guard. Notify the park staff if you found someone displaying aggressive behavior or cutting lines. If you feel your restraints are loose before the ride, call out to the conductor immediately for help. Inquire into a safe spot for your belongings as they can fall out during the ride.
Restricted Areas
Certain places are restricted from the public as a safety measure. Don't be tempted to enter restricted areas in the park as you can interfere with electrical systems, which can endanger the safety of the passengers. If for any reason you need to enter a restricted area, for example, when looking for a lost item or person, seek assistance from the park professionals and don't attempt to enter restricted zones on your own. Sometimes these areas include part of an ongoing ride and you can get seriously injured if you go unsupervised.
We all need to take a little time off to unwind and have fun every once in a while. You need to bear the above points in mind when visiting a carnival amusement park, but remember to have fun and relax. Don't rush yourself to try all the rides because on crowded days it's impossible to cover them all. Try out different activities, games, and food to enjoy an amazing day at the carnival amusement park.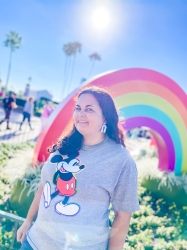 Latest posts by Krystal | Sunny Sweet Days
(see all)